CoinPot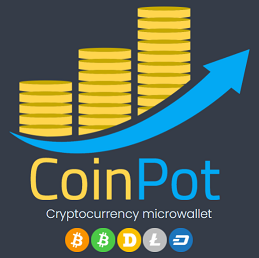 UPDATE: Bad news for all faucet users - Coinpot shuts down!
There are a lot of faucets out there. Every day, some new faucets appear and others disappear. Few faucets manage to stay online for years and the Moon Faucets, also called the Coinpot Faucets, are some of them. They are the best of the best and if you wanna earn some free cryptocurrencies, the Moon Faucets are the best way to start.
They have one special thing though, they all use their own microwallet called Coinpot. There are only a few faucets who use Coinpot, but they are all pretty awesome and you should use them all. We will show you exactly how each of them works.
What is CoinPot?
CoinPot is a microwallet that has been on the market since July 2017. Microwallets are not real wallets for crypto money, they rather function as a buffer between the faucet websites and your actual wallet. The Faucet winnings are first transferred there and can later be exchanged, paid out or used to pay for other services such as lotteries. With a microwallet, however, you only manage the winnings of your Faucets - the actual earning still takes place on the website of the Faucet itself. One of the advantages of the CoinPot website is that you can log in to all connected faucets with just one ID.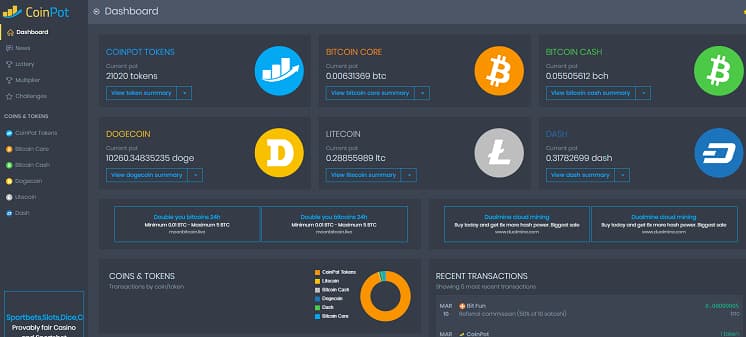 The glorious 7
There are 7 faucets that work with Coinpot. On Bonus Bitcoin, Moon-Bitcoin and Bitfun you can get free Bitcoin. On Moon-Litecoin you earn Litecoin, on Moon-Dogecoin you earn Dogecoin and on Moon-Dash and Moon-Cash you earn Dash and Bitcoin Cash.
But that's not all, for each claim on one of this Faucets, you also earn 3 Tokens at Coinpot. For each claim from a referral, you earn 1 Token. 1000 Token are around 0,085 Euro. That means, you don't only get the reward in a cryptocurrency for clamining there, you also get some tokens.The initial reward is also really high and the combination of a high reward, additional tokens and the easy usability gives them their place at the top in the world of faucets.

How to start with the Coinpot faucets?
To start using them, you first have to create an account on Coinpot. It's important that you remember your mail adress and password there. This is VERY important. We also recommend to activate 2FA, because all the coins you earn from the Moon Faucets are stored at Coinpot. If you lose access to your coinpot account, you also lose your coins. As soon as you are finished setting up your account at Coinpot, you can start to earn some free cryptocurrencies. Have fun :-)
Coinpot Faucets
Why should you use CoinPot?
It's simple: Because it's easier for you to make money. Microwallets make it easier to manage multiple faucets, make storage and transactions more secure and - because of the exorbitant transfer fees compared to the faucet earnings - profitable in the first place.
Digital money, coins, you earn for your loyalty, for your registration, for your referrals and so on. Most Faucet websites only give you a few Satoshi, a millionth of a Bitcoin. For the mini-winnings, there are not only transfer fees, but also minimum payout limits.
With the CoinPot Microwallet, you can collect your Faucet winnings until a transfer and payout is actually possible and worthwhile because there are no transaction costs. The payouts can be automated.
Another practical feature is that you have a good overview of your faucets.
Coinpot is more than a Microwallet
Coinpot is not just a Microwallet, it is more. You can also earn directly at Coinpot with various things. Mostly, you will earn Tokens at Coinpot and then you can exchange them to a cryptocurrency of your choice. By the way, you can also trade one cryptocurrency for another. If you only want Doge, you can trade all other Coins you have directly to Dogecoin. That makes it way easier to reach the amount you need to withdraw from Coinpot to your own wallet. But what can you do to earn Tokens at Coinpot?
You can mine Tokens or a cryptocurrency of your choice.
To do this, you just have to click on your Dashboard, choose what you want to mine and click on "mine".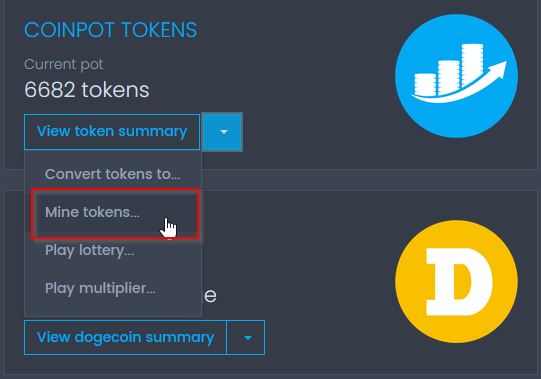 As soon as you click on it, another tab opens in your browser. Here you can decide your CPU usage and how many threads you want to use. The higher your CPU usage and the more threads you use, the more you will earn. Keep in mind that mining is probably not the best idea. Don't worry, it's not harmful for your Computer, but in most countries, the cost of power is higher than the earnings from mining. Good that there are other possibilities to earn on Coinpot.
The Lottery
If you are a gambler, you can also try the Lottery at Coinpot.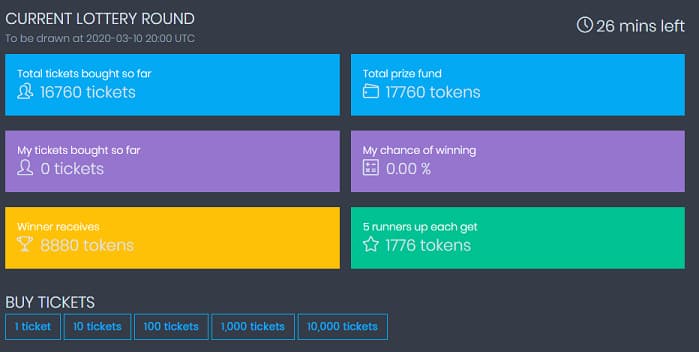 1 Ticket costs 1 Token and you can buy as many Tickets as you want. There are many participants and most of them buy a lot of Tickets, your chance to win will be pretty slim. Usually there are over 1 million Tickets, that makes it unlikely that you will win. But if you feel lucky, you may try it. But frankly, you should better save your Tokens.
The Multiplier
Coinpot offers another opportunity to gamble called "Multiplier". You need to bet and decide to "Roll low" or Roll high".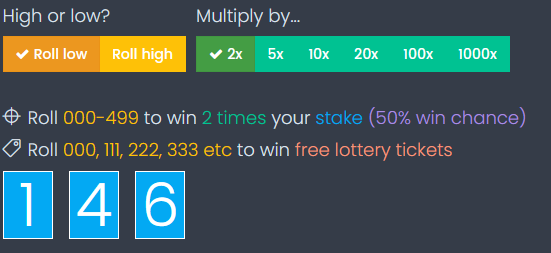 It's nearly a 50 % chance to double your bet, that makes it as fair as it can be. Still, in the long run you will lose, because the chances aren't exactly 50/50, but if you like to gamble, try the Multiplier. Most other sites don't offer such fair chances for you.
Challenges
The challenges are quite complex, let me explain it to you. For everything you do at Coinpot, you earn Stars. For example, if you claim 100 times from the Coinpot Faucets on one day, you will earn 1 Star. For every star you earn, you also get 100 Token. Each month, the 25 users with the most stars earn a big amount of Tokens. Currently, first place gets 10 Million Tokens, that's around 850 Euro. That's really a lot. But it's impossible to win it, because sadly, the system is rigged and not working correctly. For example, first place got 2157 stars in August. We did the math and even if he got all stars possible, the maximum amount for August should be 2100. That means, it doesn't work or the admins cheat to get first place for themselves, we don't know. That's why you should ignore the stars and be glad, that you also get Tokens for it.
VIP Rewards
This section was added around June 2020 and it's a really cool addition. You get interest on your Tokens on a daily basis. There are different memberships, depending on the amount of Token you have in your possesion. You don't have to invest money to upgrade your membership, you just need to have enough Tokens. The more Tokens you have, the higher your interest is. That's why it's quite a good idea to keep your Tokens and let the interest pile up.
Youtube-Video: What Is Coinpot? How to Use Coinpot- Free Microwallet- Claim Cryptocurrency
What crypto currencies are there at CoinPot?
The CoinPot website works with the currencies Bitcoin, Bitcoin Cash, Dogecoin, Litecoin and Dash, so you also have the possibility to exchange or convert one crypto currency to another - this money exchange also helps you to break the free payout limit, i.e. to have so much money in a single currency in the CoinPot wallet that its transfer is free of charge.
By the way, if you want to transfer less than 50,000 Satoshi to your payout wallet, 1,000 Satoshi will be charged to the CoinPot Microwallet.
Daily updated overview of income
Many users are enthusiastic about the current earnings overview, this is provided for every crypto currency on CoinPot, including the tokens. The tokens can later be exchanged into one of the offered currencies. Here you really don't have to know English, because numbers are international.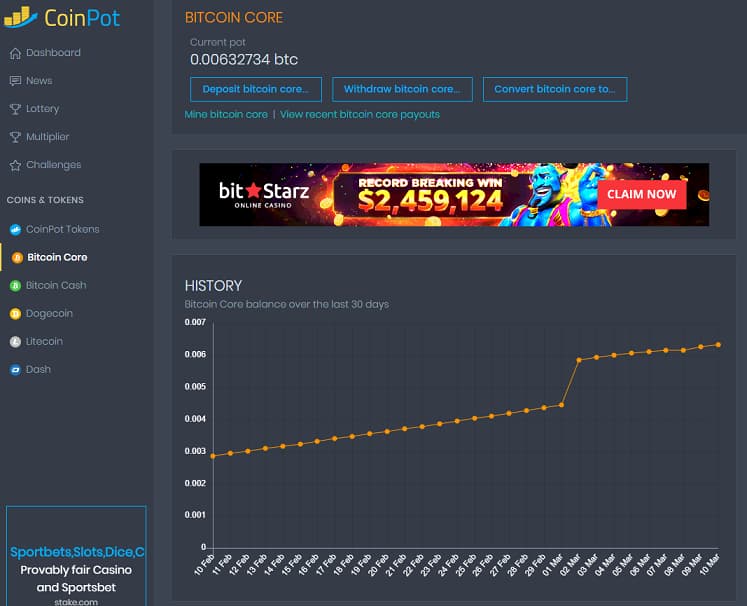 CoinPot experiences?
The fact that "only" and especially these seven faucets are served, is in our opinion no real loss, because they stand out from the mass of faucets, among whom there are some "black sheep". Therefore, we have not heard of any problems with transactions, deposits and withdrawals, deposits or conversions via the CoinPot website. Our tests with the CoinPot platform have also revealed no complaints: All transactions, bookings and withdrawals went as they should have gone.

Can one also earn money at CoinPot?
The website offers not only the faucet profit management, but also additional earning opportunities: Not only can you accumulate and manage your Faucet winnings, you can also mine coins: Bitcoins (Bitcoin Core), Dogecoin, Litecoin, Dash and Bitcoin Cash.
What is a CoinPot token?
With the "CoinPot Token" CoinPot has created its own class of merit. With every claim you collect from the official faucets through your CoinPot centre you will receive three tokens, and even for every claim of a user you refer (i.e. at a referral) you will receive a token as a gift. You can also exchange other cryptos for CoinPot tokens, and finally it is also possible to mine CoinPot tokens. On the other hand, it is also good that you can convert the collected CoinPot tokens into other currencies, for example Bitcoins.
You can also use the CoinPot tokens to buy lottery tickets. Because the in-house CoinPot Lottery offers not to be sneezed at, hourly lottery draws and a jackpot.
Another possibility for "coin multiplication" is the CoinPot Multiplier, with which you can double the tokens on the dice.
Announced are further games and payouts and settlements in gift cards and vouchers.
How to set up CoinPot?
Setting up the CoinPot platform is very easy:
1. you register with your email address and password (at least 8 characters, whether capital or small, letter or number)
2. you meet the requirements of the "reCaptcha" (proving that you are really you and not just any robot)
3. you agree to the terms of service.
4. click the link in the confirmation email - and your own CoinPot microwallet is ready.
5. then choose from the seven Coinpot faucets those you want to use.
It's a good idea to use the same email address for each faucet as for the CoinPot website, as this will automatically transfer the earnings directly to your CoinPot wallet.
For those who want to manage their digital assets on the go, there is the useful CoinPot app - unfortunately only for Android phones, Apple users are currently being put off.
Youtube-Video: Huge Coinpot Update
Is CoinPot safe / legit?
Coinpot has been around for a long time now, and they are a legit Microwallet, but there were still some issues with it. As I already mentioned before, the Challenges are rigged, we don't know if it's an honest mistake or if the admins cheat, but it's still weird.
Another incident was in June 2020. Some of the Coinpot Faucets got hacked and weren't available for a few days. Fortunately, the admins could recover the balances of the users, but they lost all referral data, so everybody had 0 referrals again. That could also be an honest mistake, but it's a fact, that a lot of people lost money, because they had a lot of referrals and now they are all gone.
We also couldn't find out any information about the owner of Coinpot. If you put it all together, you see that Coinpot is a bit shady sometimes.
That's why we strongly recommend you, that you withdraw your money regularly to your own wallet. Like this, if another issue rises, your Coins will be safe. As long as you withdraw regularly, you won't lose much. The only thing we currently keep on Coinpot are the Tokens, because we want to earn some interest from them. But we still convert them on a regular basis and send our cryptocurrencies to our own wallet.
Our conclusion for Coinpot
Coinpot offers some of the greatest Faucets you will find. The earnings for the Faucets are great and Coinpot works really well most of the time and till now, we never had any issues withdrawing our money. The Coinpot Faucets are also a great way to start with Faucets, because they are really easy to use and for most of them, you don't even need to register, you can just use the same mail adress you used for Coinpot. We have no evicdence, that the incidents previously mentioned were on purpose, that's why we see Coinpot as a legit site. But you should still withdraw your funds as soon as you can. Better safe than sorry.
What are the advantages of CoinPot? That all speaks for your registration:
Our CoinPot experiences show that the platform is not only useful, but also reliable and secure. It is ideal for managing your crypto earnings.

Free to use

Easy management of several different faucets, Bitcoin providers and digital currencies

Clear dashboard design

Collect the Faucet winnings to reach the free payout limit faster

Free exchange of the currencies Bitcoin, Bitcoin Cash, Dashcoin, Dogecoin and Litecoin - this also allows you to bundle your "assets" in a single currency and also reach the free payout limit faster




Free payout from 50,000 Satoshi within two days

Faucet claims and earnings of the connected providers are automatically and immediately posted to the CoinPot-Microwallet.

Additional earning opportunities and chances of winning
Crypto Glossary / Lexicon