Faucetpay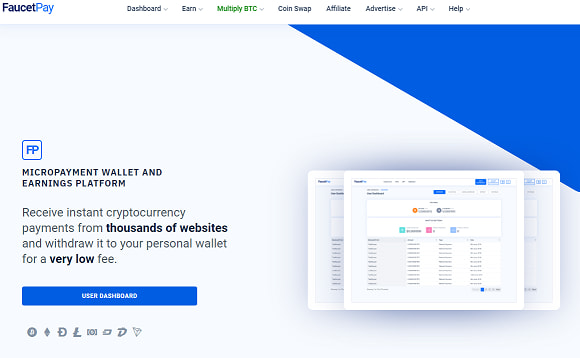 Faucetpay is a popular provider for a microwallet and if you use Faucets, you need to use Faucetpay. If you send a small amount of Bitcoin or another cryptocurrency, the fee for the transaction will be higher than the amount you send. Microwallets exist solely for that reason, because with them, you can send small sums and don't have to worry about fees.
You still need a wallet
Before you can use Faucetpay, you still need to create a wallet, for example with Coinbase. As soon as you have a wallet, you can link it to Faucetpay and you can then use it as a Microwallet for Faucets. But Faucetpay offers way more than just a Microwallet. You can even earn Bitcoin, Ethereum, Litecoin, Dogecoin, Dash, Tron and Feyorra at Faucetpay.


How can I earn Bitcoin at Faucetpay?
First of all, you get a login bonus, if you login at least once per day. You get 1 Reward Point (RP) every day you login. But the login bonus gets higher, if you login daily. For the first day you get 1 RP, second day 2 RP, third day 3 RP and so on. The maximum amount you can get is 100 RP every day.
With RP, you can do different things. You can Power-Up different earning methods like the Offerwall or PTC ads for a few hours. Or you can just exchange them to Bitcoin, 10 RP are worth 1 Satoshi. By the way, you also get RP for different things you do at Faucetpay like gambling or creating your own PTC ads.
Instead of creating your own PTC ads, you can also watch them and earn Bitcoin directly at Faucetpay. But you need to claim at least 5 times from Faucets every month to use them, but it's really easy to claim 5 times from Faucets. It takes only a few minutes and you keep the rewards anyway, that's why the restriction is fine.
Faucetpay also offers a lot of different Offerwalls, but they aren't special, just the usual Offerwalls like OfferToto or Wannads. If you encounter any problems with one of the Offerwalls, keep in mind that Faucetpay can't help you. You need to contact the support from the Offerwall directly.
If you are into gambling, you can also try one of the different games at Faucetpay, you can find them in the menu at "Multiply BTC". We can't recommend them, because at gambling, the house always wins. If you gamble, you will lose money in the long run.


Exchange your Bitcoins
You can also exchange your Bitcoins for other cryptocurrencies, you can instantly change them like you see fit and it's free to use. You only pay a fee if you withdraw from Faucetpay to your real wallet, but the fee is really low. You should still accumulate a few Dollar or Euro in Bitcoin before you withdraw. But don't keep too many Coins at Faucetpay, altough it's safe to use, you can never be too cautios.
You can also earn more when you invite other people...
Faucetpay also offers a great affiliate programm, if you invite your friends to Faucetpay you earn every time your referral gambles, do some offers at their Offerwalls or watch their PTC ads. The percentage you earn depends, for example you get 25 % from every offer from a Offerwall and 50 % from every PTC ads. Your referral doesn't earn any less, you get it directly from FaucetPay as a bonus.

There is also a long list of a lot of different Faucets, but keep in mind that Faucetpay lists every Faucet. The good ones and the bad ones, and believe us, there are a lot of Faucets that suck. They are just a waste of time, so you should check for the best Faucets available directly here at best-faucets.com. :-)
If you have any questions regarding Faucetpay, you can ask us or write directly in the forum at Faucetpay. There are a lot of active members in the forum and you will also find a lot of useful guides there.
Here are some more Statistics of Faucetpay: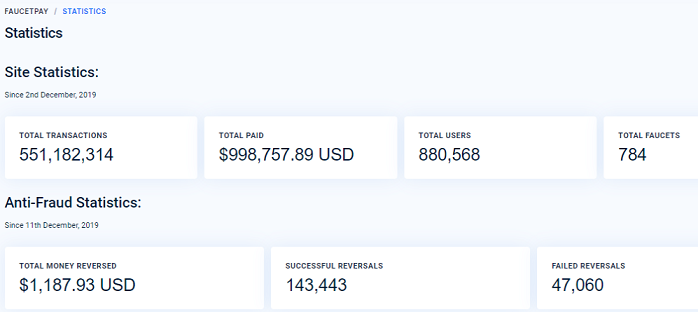 For the fact that the service was created only in 2019, the number of members a year later is really impressive. As well as the amount paid out so far or the managed sum of cryptocurrencies, which is on all accounts. In addition, also the info about almost 800 affiliated Faucets, all services where you can click Bitcoins and other cryptocurrencies for free. An incredibly gigantic market, a globalized market, which continues to grow day by day.

Book advertising yourself
A great feature at Faucetpay is also the possibility that you can book advertising yourself. This means you can address the almost 1 million users (worldwide active and crypto interested)! Just use your existing credit and buy banner ads or paid clicks, it's quick and easy and brings you exactly your target audience to your website. I tried this for another project and the result was good, people stayed on average over 30 seconds on the website and some registrations came around. Especially for the entry into the crypto advertising market highly interesting.
Comprehensive info and help area
The last menu item is called "HELP" and here you can find information on topics such as fees, FAQ's, statistics, the contact form and other useful information about services and the platform itself. It's best to take a look at all the items at your leisure.
API interface documentation
For all of you who are interested in becoming a part of the community, not as a user but as an operator of your own Fauquet. Here you will find all relevant information on how to connect Faucetpay to your Faucet. There are several faucet scripts available on the market. To what extent some of them already contain interfaces to Faucetpay or not we cannot estimate. The current number of about 80 faucets connected to Faucetpay, however, indicates that the interfaces cannot be that difficult to set up. We still recommend the cooperation with a programmer or web developer. We would be very happy if finally many more German providers would jump on the bandwagon or in the end even Paidmailer or other already well running Paid4 operators would also offer crypto services, because there is real growth potential here ;)
Youtube-Video: FaucetPay Review – Fast Easy Money?

Our conclusion for Faucetpay
Faucetpay is the best Microwallet on the market and if you intend to claim some free Bitcoins from Faucets, you need to use it. A lot of Faucets only work with Faucetpay, that's why you have no choice anyway. But if you don't want to register there, feel free to check our Faucets and look for the ones with "Direct withdrawal". They pay you directly to your wallet without the need of a Microwallet. You should definitely check this before claiming if you don't want to use Faucetpay, else you can't withdraw your Coins.
As soon as you have too many Coins at Faucetpay, you should send them to your wallet at Coinbase to keep them safe. Faucetpay is a legitimate business, but better safe then sorry.