Best-Faucets – We have a mission
2020-07-26

The world of cryptocurrencies is a fascinating one. We are crypto enthusiasts and we are following Bitcoin and his peers for a few years now.
First, we (Adrian and Shanti) encountered Bitcoin in the news as it started rising a few years ago. It peeked our curiosity and we started to read more about this fascinating topic. Then we started to claim from a few Faucets and earned our first few Satoshis. Suddenly, we were hooked. The world of cryptocurrencies was a new world for us and it was a great experience. Sadly, it was a bit like back then in the wild west. Frauds and scams, wherever we went. We lost some of our freshly earned Satoshis and we were taken aback. Is Bitcoin itself a scam? No, it definitely is NOT a scam, but a lot of people made scams around it.
That's why we started to gather information about a lot of topics surrounding Bitcoins. Cloudmining, Bitcoin-Doubler, Faucets, whatever it is, we read about it and tested it. After a year, we were able to distinguish between real sites, where you can earn some Bitcoin and scams. Sure, sometimes we are wrong, but most of the time we get it right. We invested in some sites and earned some Bitcoin with it. And we are still claiming from a lot of Faucets and we are absolutely thrilled about everything involving cryptocurrencies.
An idea was born...
That's why we thought it's a good idea to make best-faucets.com. It took us a lot of time to review the different Faucets and other sites you will find here. Every day, new sites show up and every day, some sites perish. That's why we decided to recommend you the best faucets out there and tell you everything about them. Like that, you can immediately start to earn some Bitcoin without any concerns and won't get scammed.
We will also tell you about new sites we find, but only after we tested them for some time. You will NOT find the newest site right after it published, because we don't want to write a half-assed review that sounds like an advertisment. We test a site thoroughly and then we write a review about it. Be it positive or negative, we will write about our experiences with the site.

We will also write about the latest news regarding Faucets, other sites to earn Bitcoin with or general news about different cryptocurrencies. We offer a great FAQ area about the most important things regarding Bitcoin and other cryptocurrencies. If you have any general questions, feel free to send us a message and we will gladly help you out and update our FAQ area with your question. If you have any questions regarding a certain site, you can also message us and we will try to help you as good as we can.
Frankly, we are not perfect...
Sometimes we make mistakes and recommend a site that turns out to be a scam. We really try to gather as much information as we can, but sadly, there is no 100 % guarantuee for something. If we recommend you a site that turns out to be a scam, we are really sorry. We will update our review as soon as possible. We will not change our initial review, because we don't want to mislead you. But we will update our review and put the site in our blacklist. We already had such an incident, check out our review of FreeBTC.
Sometimes, we also make some mistakes and again, we are sorry for that, but such things happen. If you encounter any false information on best-faucets.com, send us a mail to mistakes@best-faucets.com and you will get a reward for it. If you are interested, feel free to read more about it here.
Of course, it costs time and money to operate a site like this, that's why we show some advertisments. It's nice, if you disable your adblocker, but we won't force you. We also use our referral links for the sites we review. We kindly ask you to use them if you find a site and want to register there. Again, we won't force you, but you help us to operate this site. We thank you for your understanding.
Best-
Faucets

.com is a project that's important to us

Because we want to spread information about cryptocurrencies. Our vision is, that every human being on earth will someday use cryptocurrencies to pay for stuff in his daily life. That's a dream we have and with best-faucets, we want to help a little to make that dream come true.

Best regards...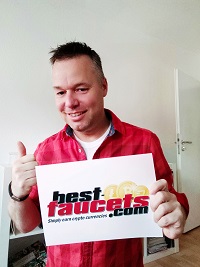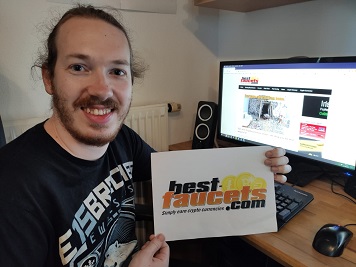 Pi-Network - The First Digital Currency You Can Mine On Your Phone >>