BitFun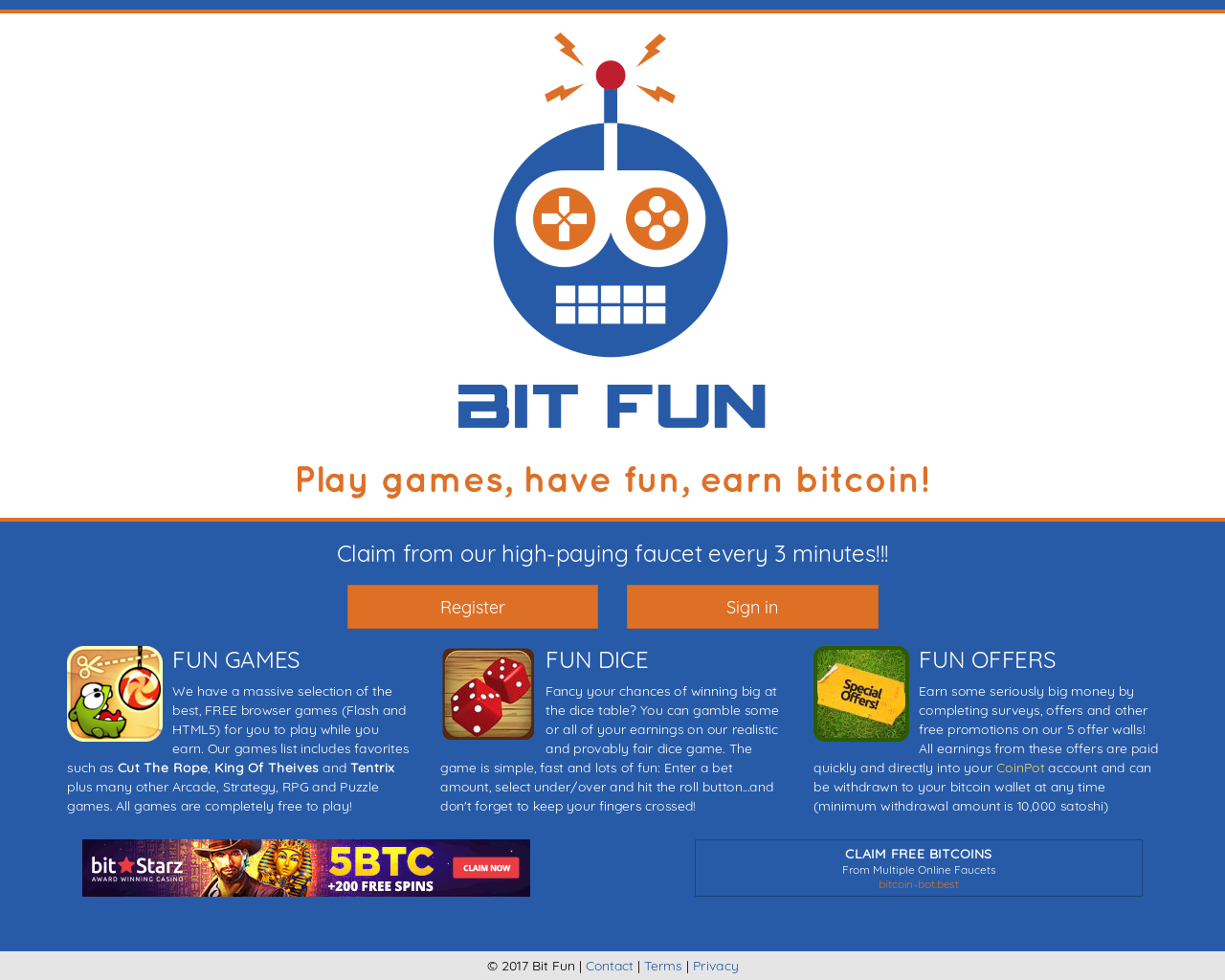 Rating:
4,00
Operator:
Unbekannt
Country:

Australia
Language:

Start:
2017
Total Payouts:
16
Ref-Commision:
50 %
Minimum Age:
Years
Micro Wallet:
Claim Time (in min):
60 min
Earnings:
Good
Captcha:
Yes
Payout:
manually
Currency:

Bitcoin
Pro- and Contra for BitFun
Fast and Easy
Well paying
Instant withdrawal to your coinpot wallet
High referral commission
No information about the owner
Too many advertisments
The games suck
What's BitFun?
UPDATE: Bad news for all faucet users - Coinpot shuts down!
BitFun is one of the 7 Faucets, that pay directly to Coinpot. They are called the Coinpot or Moon Faucets. If you don't know what Coinpot is, you should read everything about it here. You need an account at Coinpot before you can use BitFun, because you need to use the same mail adress for your BitFun account. BitFun is different than the other Moon Faucets, because you need to register for it. Normally, you just need to enter your mail adress and don't need to make a new account, but for BitFun, you have to. It also looks completely different than the other Moon Faucets, but it's still easy to use. You just need to click on "Play Games" and then on "Claim now".
You can't find any information about the owner of BitFun. That's common for Faucets, but it's still a bad sign. But BitFun is online since 2017 and there were never any issues where people got scammed. The Moon Faucets also have a really good reputation, so you don't need to worry. Your Bitcoin also goes directly to your Coinpot wallet, so BitFun can't scam you out of anything. The worst that can happen is that you lose the Bitcoin for the claim you just made. Still, it's always a good idea to move your cryptocurrencies from Coinpot to your own wallet as often as you are able to. Coinpot never scammed people, but better safe than sorry.
How can I earn Bitcoin at BitFun?
BitFun offers a Faucet and you can claim from it every 3 minutes. You see the amount you can claim and the longer you wait, the more Satoshis you get. But it slows down over time, that's why it's the most efficient if you claim as often as possible.
BitFun also offers some offerwalls, but you can just chose between a few of them. Offerwalls always face the same problems, if you encounter any issues with it, you have to rely on their support and BitFun can't help you. If the support of the offerwall won't help you, you are out of luck and can't do anything at all. BitFun also offers Dice and some other Games, but Dice doesn't work most of the time.

If you want to play games, you can chose between a variety of games like Chess, Darts or other simple games. To be honest, the games are pretty basic and aren't fun. There are a lot of sites to play different games in your browser and they are way better. It's a nice try from BitFun to keep the users at their site to show them advertisments, but it completely fails.
You should only use BitFun for it's Faucet. It's well paying and the interface of BitFun is easy to navigate, that makes it easy for you to claim your Satoshis. You also get 3 Tokens directly at Coinpot for each claim you make. BitFun doesn't inform you about that, you only see it when you login to your Coinpot wallet. Tokens are no real cryptocurrency, but you can change them directly at Coinpot for a cryptocurrency of your choice. That means, you get something in addition to the high amount of Satoshis you get for each claim. That's a great thing and makes BitFun even better.
How high is the commission for referrals?
This is a part, where BitFun excels. You get 50 % commission for every claim your referral makes. That's really high and it's a great idea to refer people to BitFun. You also get 1 Token for each claim a referral makes. Again, BitFun doesn't inform you about that, you only see it at Coinpot. Of course, your referral doesn't earn any less, you get the Satoshis as a bonus directly from Bitfun.
Our conclusion for BitFun
BitFun is a nice Faucet, it's well paying and you get your money directly to Coinpot, that's nice. But BitFun doesn't offer any more than that and sadly, it's the worst one of the Coinpot Faucets. But it's still a pretty good Faucet, even if it's worse than the others. The only downsides are the lack of information about the owner and it's a bit overloaded with advertisments. It's still easy to navigate, but if you want to play their bad games, you also see a lot of ads. That's just not worth it and if you really want to play games, use a site designed for browser games. You will find better quality games there. Just use BitFaucet as a Faucet, if you do that and manage to refer some people to BitFun, you will earn quite a lot Satoshis every day. If you decide to use Faucets to earn some free Bitcoin, be sure to use BitFun. It's one of the better Faucets you will find out there.
Payment Proof BitFun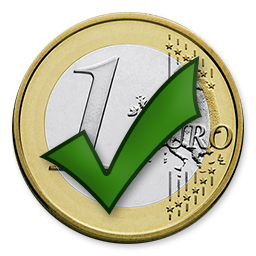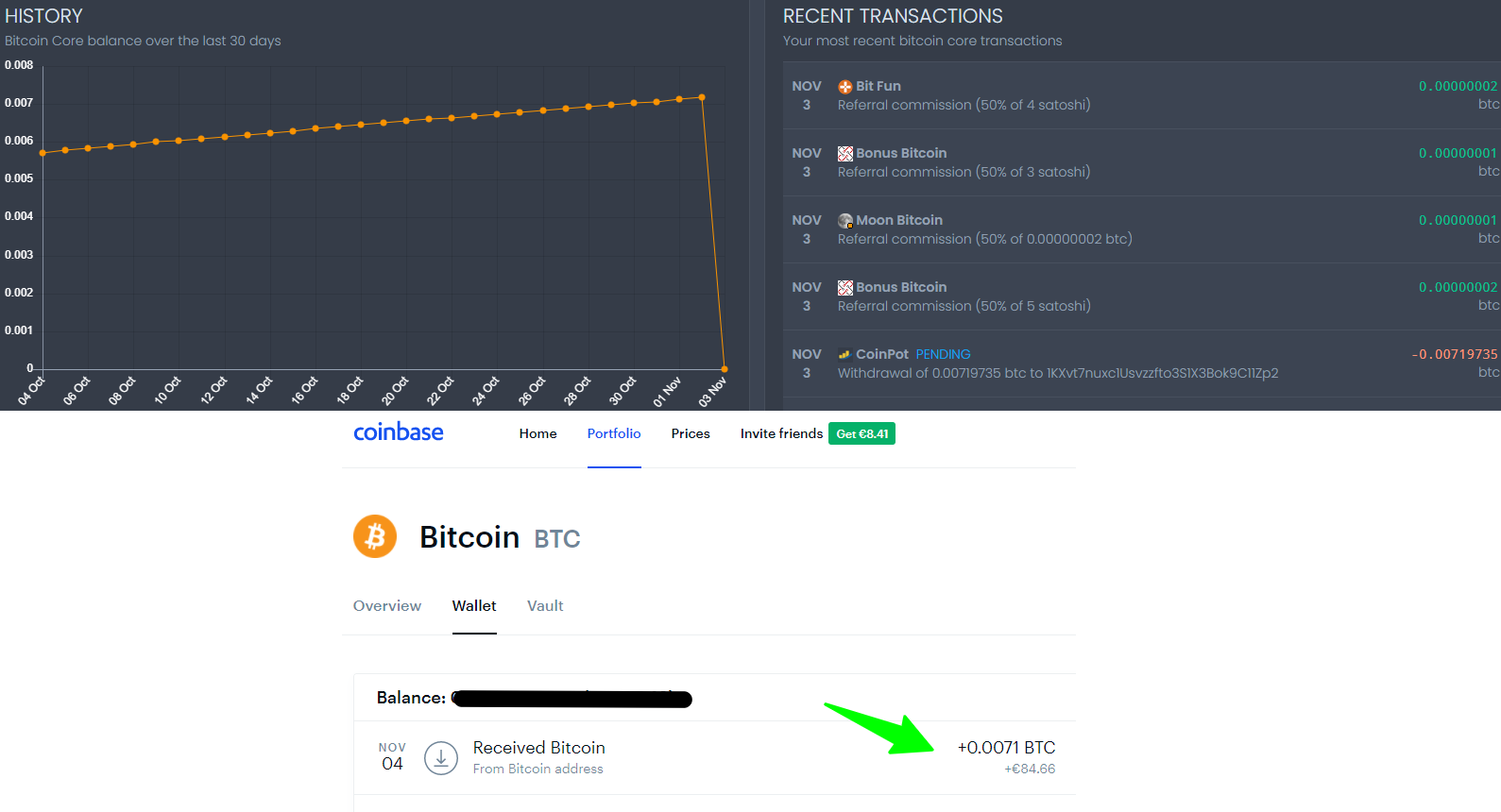 If you like BitFun, you may also like: