Faucetpay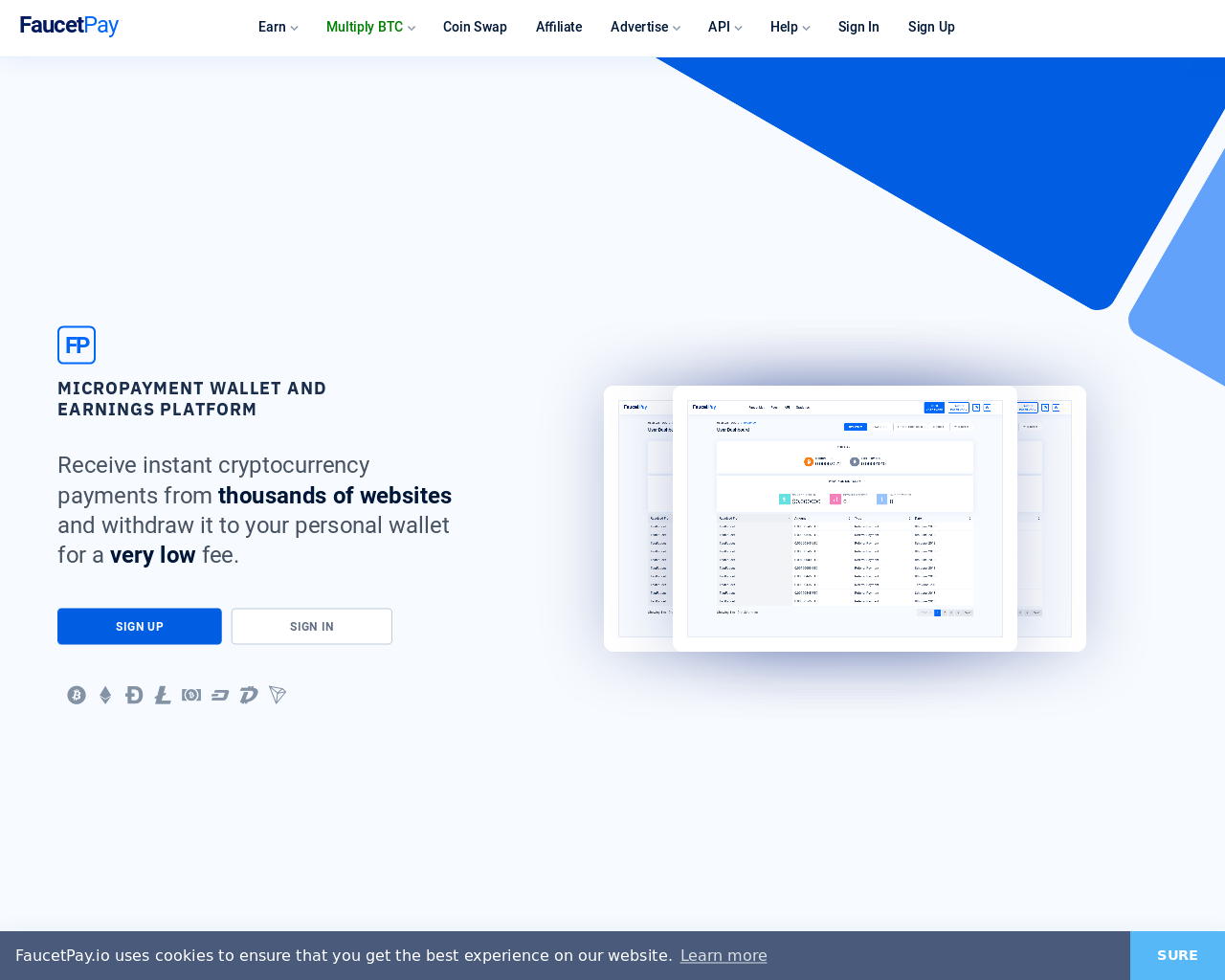 Rating:
5,00
Operator:
Unknown
Country:

USA
Language:

Start:
2019
Total Payouts:
16
Ref-Commision:
One level (variable)
Minimum Age:
Years
Micro Wallet:
Faucetpay
Claim Time (in min):
24 hours
Earnings:
Middle
Captcha:
Yes
Payout:
automatically
Currencies:

Bitcoin,

Bitcoin Cash,

Dash,

Doge,

Ethereum,

Litecoin,

Tron,

Zcash
Register now at Faucetpay
Pro- and Contra for Faucetpay
Largest Faucet Network
SSL encrypted
Nearly 1 million members
Innovative script
Games
What is Faucetpay? Faucetpay Review - Scam or Legit?
The story of Faucetpay actually begins with the end of the pioneer Faucethub at the end of 2019. To make it short, the then top service in the microwallet universe announced very surprisingly its withdrawal. Within a few weeks, a large vacuum was created, but after a short time, almost all providers who were previously with Faucethub swung over to the then newly created service of Faucetpay. Because Faucetpay is not "just" a Faucet or a PTC site, Faucetpay offers a central microwallet to connect all your other wallets in one platform. The genius of it is that dozens, maybe even hundreds of individual faucets are connected to the Faucetpay platform and all of them automatically transfer your clicked balance directly to Faucetpy, no matter how small it is.
For this reason, I had no choice but to transfer all my accumulated funds from Faucethub to Faucetpay and then wait until all the faucets I was signed up with slowly migrated to Faucetpay. Almost all of them followed suit and so I was able to transfer my accumulated balance to Faucetpay immediately as usual, a brilliant idea. By the way who is interested, Coinpot is the counterpart to Faucetpay, but much older and also only with 7 internally connected services, the operators also deliver here super work for the crypto community worldwide.
What do you need to start using Faucetpay?
Of course, you need an account with the provider as well as wallet addresses for various cryptocurrencies. Be it from trading platforms like Coinbase or Bitcoin.de or your own addresses. You have to store these wallet addresses in your account before you can earn money with Faucetpay in the respective cryptocurrency.


Which cryptocurrencies are accepted at Faucetpay?
Since its inception in 2019, 3 new cryptocurrencies have now already been added (Tron, Tether TRC20 and Feyorra). The big advantage here is that Faucetpay has all the classic altcoins on offer, these are also the most heavily traded on the exchanges and have some of the largest market capitalization, therefore relevant. We expect more new cryptocurrencies in the future, the creators are very committed and the community is growing steadily.

How many users are registered with Faucetpay and how much has already been paid out?
For the fact that the service was only created in 2019, the number of members one year later is really impressive. As well as the amount paid out so far or the amount of cryptocurrencies managed, which is on all accounts. In addition, also the info about almost 800 affiliated Faucets, all services where you can click Bitcoins and other cryptocurrencies for free. An incredibly gigantic market, a globalized market, which continues to grow day by day. Unfortunately, there are only very few german speaking providers here, with us the topic of cryptocurrencies is simply difficult to establish...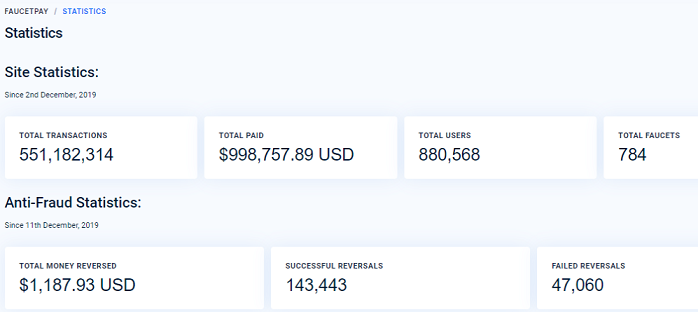 How to earn Bitcoin or other cryptocurrencies at Faucetpay?
It's super easy here, because Faucetpay offers a separate section just like any other Faucet. Under the "EARN" menu item, you can earn cryptocurrencies either through affiliated Faucets, with remunerated surveys or directly with paid clicks (PTC). We recommend you click through the PTC pages here regularly, it won't take long and will earn you a few Satoshis every day.
Faucetpay also offers games where you can type or bet....
I must confess, I always avoid these functions, but if you are really lucky with these games, you can quickly multiply your income. But be careful, there is always the risk that you lose everything or at least a part of it! Currently Faucetpay offers 5 games here, they are called Dice, Crashes, Limbo, Roulette and Plinko. Please check it out for yourself and make your own picture, I wish everyone good luck, for me it's all too risky, I belong to the clickers ;)
Youtube-Video: How to collect multiple crypto at a time a Complete FaucetPay Review
Faucetpay also offers refunds...
Of course, Faucetpay also offers you a compensation if you inspire friends or acquaintances for the service. Just send the reflink to them and should a person sign up through the link, then you will receive a passive income in the background in the future. The provider is really generous here, because Faucetpay currently offers different levels of compensation for different activities of the refs. In total, you can earn really good money as an advertiser, but your ref does not suffer any disadvantage.

Coin Swap / Exchange of cryptocurrencies possible on Faucetpay.
A super story is the menu item "COIN SWAP", here you can exchange your different cryptocurrencies. The exchange really works within a second. Super convenient, because we recommend you to earn in several cryptocurrencies, but it is better to focus on a few cryptocurrencies and then collect them (Hodlen).
Book your own advertising
A great feature at Faucetpay is also the possibility that you can book advertising here yourself. This means you can target the nearly 1 million users (worldwide active and crypto interested)! Just use your existing credit and buy banner ads or paid clicks, it's quick and easy and brings you exactly your target audience to your website. I tried this for another project and the result was good, people stayed on average over 30 seconds on the website and some registrations came around. Especially for the entry into the crypto advertising market highly interesting.
Comprehensive info and help area
The last menu item is called "HELP" and here you can find information on topics such as fees, FAQ's, statistics, the contact form and other useful information about services and the platform itself. It's best to take a look at all the items at your leisure.
API interface documentation
For all of you who are interested in becoming a part of the community, not as a user but as an operator of your own Fauquet. Here you will find all relevant information on how to connect Faucetpay to your Faucet. There are several faucet scripts available on the market. To what extent some of them already contain interfaces to Faucetpay or not we cannot estimate. The current number of about 80 faucets connected to Faucetpay, however, indicates that the interfaces cannot be that difficult to set up. We still recommend the cooperation with a programmer or web developer. We would be very happy if finally many more German providers would jump on the bandwagon or in the end even Paidmailer or other already well running Paid4 operators would also offer crypto services, because there is real growth potential here ;)

Our conclusion about Faucetpay
We think Faucetpay is a "MUST HAVE" among providers. Not necessarily because of the in-house earning possibilities, rather the functionality of a microwallet is priceless and extremely important. Because here, the activities of other Faucets converge centrally and you no longer run the risk that one or the other Faucet disappears from the market. Because with every claim you make, your credit is automatically transferred to Faucetpay. You collect everything in one central place and here Faucetpay is currently the top dog worldwide! Otherwise, the script impresses with a lot of functionality, is super easy even for beginners and simply offers fun at Hodlen. In addition, in German-speaking countries still relatively unknown and therefore also for future activities highly interesting to advertise ;)
Payment Proof Faucetpay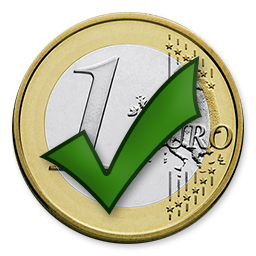 Register now at Faucetpay
If you like Faucetpay, you may also like: