What is Coinbase?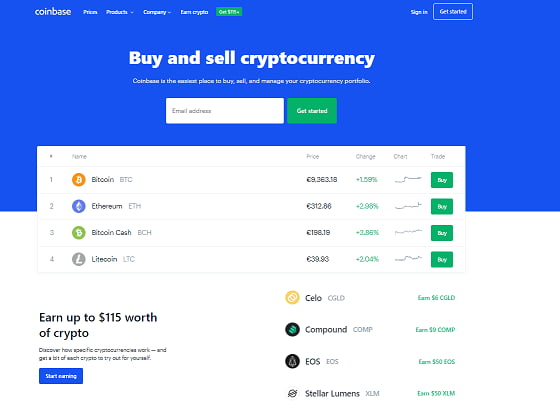 Coinbase is an american company that specializes in buying and selling cryptocurrencies. If you want to use Faucets or interact in any way with cryptocurrencies, it's a must have to own a wallet. If you use Coinbase, you can easily create a wallet there and use it for different purposes. Even if you decide to use a microwallet for Faucets, you still need a wallet. Microwallets only work if you made a wallet at another site first, because you have to link the adress of your wallet to the microwallet.
What are the advantages of Coinbase?
The biggest advantage of Coinbase is, that they offer a lot of different cryptocurrencies. You can trade the most known like Bitcoin, Ethereum and Litecoin there, but they also offer lesser known coins like Maker or Dai. It's also really easy to create a wallet for every cryptocurrency supported by Coinbase.


If you login to your Coinbase account, the first thing you will notice is the current value of your Portfolio. Coinbase shows you, how much Euros or Dollars your whole cryptocurrencies are worth. That's really comfortable, you also see the chart for every coin and how the price changed in the last 24 hours.



Coinbase 24 hours chart

You can easily buy or sell your Bitcoin, Ethereum or whatever you want, directly from or to Coinbase. You have to pay a fee though, and the fee depends on a lot of different factors. The more you buy or sell, the higher your fee is. It also depends on the method of payment and other factors. You can find a full list of the fees directly at Coinbase.


By the way, you can create as many wallets as you like. Like this, you could use a different wallet for every microwallet or every Faucet, if they pay directly to your wallet. That will improve your security, but it's not that important, you can use the same wallet adress for every Faucet. What is important though is to keep in mind that Coinbase is just a company. It is a legitimate company and they will not scam you, but if they decide to, they can easily take over your wallets. A wallet at Coinbase is like a bank account. Legally, you own the money, but Coinbase still has full control over it. If you want to keep your Coins completely safe, because you have a big amount of them, you have to make a paper wallet or use a hardware wallet and transfer your Coins there.


If you send or receive funds, always check the adress. If you mess up even one letter, your Coins will vanish forever. Better make sure and always check twice. Better safe than sorry.


Another really nice feature is their convert function. You can convert one currency to another directly at Coinbase, most of the time you don't even have to pay a fee. That makes it really easy to use a lot of different cryptocurrencies.

You can even earn money at Coinbase
Coinbase also offers a really cool learning program. There, you learn the most important facts about different cryptocurrencies and you also earn a few Coins. Sadly, you have to be eligible to earn from it and depending on the country you live in, you have to be stay on the waitlist and hope, that some day in the future you will be able to earn from Coinbase.
You can also earn from refering people to Coinbase. Currently, you will receive 8,46 Euro in Bitcoin, if your referral buys or sells any cryptocurrency for at least 84,59 Euro. The best thing is, that your referral also earns 8,46 Euro in Bitcoin. That means, if you register at Coinbase, you should definitely use someones referral code, so both of you will get free Bitcoin from Coinbase.
Coinbase also has some negative sides (disadvantages)
Coinbase also has some flaws, sadly. Like we already mentioned before, your wallets there are exactly like bank accounts, if Coinbase goes bankrupt, you could lose your cryptocurrencies. You absolutely should send your Coins to your own wallet and keep them safe, if you invested a large sum.


The second negative aspect of Coinbase is their fees. They can be quite high, especially if you buy a small amount of Bitcoin or another currency. The fees for small amounts are really high, that's why you should invest at least 100 Dollar, if you want to buy any cryptocurrency. If you use a lot of Faucets, you should also gather your Coins in a microwallet like FaucetPay. Like that, you can collect them and as soon as you have saved a lot, you can send them to your Coinbase wallet or directly to your own paper or hardware wallet.
There are also alternatives to Coinbase
If you dislike Coinbase for whatever reason, you could also try Blockchain.com. They offer nearly the same services like Coinbase, but we prefer Coinbase, because we think it's easier to navigate and the interface looks better. But it's your choice, we can recommend both of them.
Youtube-Video: Coinbase Review in 2 minutes (2020 Updated)

Final thoughts for Coinbase
Coinbase works great, looks really neat and it offers a lot of functionality. It's not that great if you work with small amounts of Bitcoin, you should definitely use a microwallet for that. But for everything else, Coinbase is our prefered choice.
Keep in mind, that if you are going to invest a large sum, you should absolutely move your Coins to a paper or hardware wallet, to keep them 100 % safe. But for everything else, Coinbase is completely safe and fine to use. You don't have to worry, that they will scam you. They are a legitimate business, it's more likely they will go bankrupt. But we doubt that too, that's why we recommend it to you.