Earn free Cryptocurrencies online - we show you the best ways for it!
On best-faucets you will find an overview of the best bitcoin faucets, PTC Services and autosurfer sites on the market. So you can get free cryptocurrencies without any problems, no matter if it is Bitcoin, LiteCoin, DogeCoin, Ethereum or any other cryptocurrency.
We support you in choosing the best sites, inform you about changes and news of the different sites and provide you with all information you need to get free crypto currencies.
It's easy and really everyone can earn free crypto currencies online, all you need is some time, a computer and a little help from us :-)
All services listed here are 100 % free. We will not recommend any site, where you have to deposit money before you can earn money, we think this is dubious. We are trying to list only legit sites, but unfortunately we cannot give a 100% guarantee that all sites will pay you. Of course we test all our recommendations as best we can. But sometimes a site just stops paying, or the owner changes and decides to stop paying. If you encounter such a problem, feel free to send us a mail, we will try to help you us good as we can and will update our recommendations.
Youtube-Video: How Bitcoin Faucets work
What are the advantages of best-faucets.com?
We show you how to start with earning free cryptocurrencies online
We help you to setup the wallets you need, show you the best sites and tell you exactly how to earn Bitcoin there. We will show you proof, that the site pays and keep you informed about any news. We also tell you, how much you can earn there, so you can choose the best sites for yourself. We recommend only the best sites like the Faucets which belong to the Microwallet Service Faucetpay (the biggest Faucetnetwork worldwide with over 850 Services) and some free competitors like adBTC, Autofaucet Dutchycorp, Cointiply, Coinpayu, Freebitcoin and more.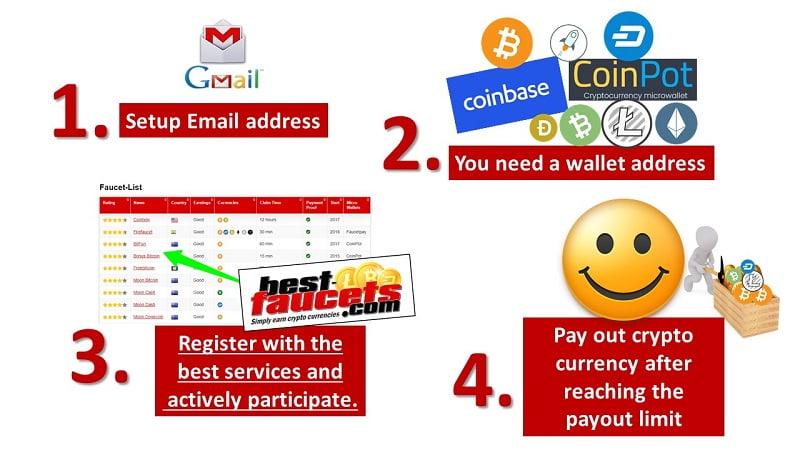 Background information
In the world of cryptocurrencies, anonymity plays a major role. Therefore, unfortunately, many sites do not provide an imprint and often even do not offer a contact possibility. In case of a problem, there is no possibility to contact the owner and gets some help. That's why we try to collect as much background information as possible about each recommended site so we are able to give you a contact person in case of a problem. If a site doesn't offer any contact informationen at all, we will mention this and it also reflects in our rating.
Tips and tricks to increase your earnings
We give you useful tips and tricks for each service listed here, so that you can increase your earnings sustainably. Because we don't just list the services, we are registered there ourselves and only recommend the services that have convinced us. We don't want you to waste time with dubious crypto services!
We provide general information about cryptocurrencies
Not only do we want you to earn Bitcoin for free, we also want you to be familiar with the different cryptocurrencies available. That's why we've included important information about Bitcoin and other cryptocurrencies in our FAQ, so you're always up to date.
You can even earn free Bitcoin with best-faucets.com
We are humans and we make mistakes. Sometimes, a site we list changes some things and we do not realize it. Or we couldn't find information about the owner of a site. Such things happen, sadly. But if you find any mistakes at best-faucets like a wrong claim timer, outdated information or such a thing, feel free to inform us and send us a mail at mistakes@best-faucets.com.
If you do so, we will reward you and send you 500 Satoshis to your wallet.
Be aware, that you need to send us some screenshots as proof. We will check your information and if you are right and we really made a mistake, we will send you your Satoshis. If a site introduces something new, please wait for at least 7 days before you inform us. Maybe we are already updating it and in this case, we can't give you your money. But if we are already working on it and were just too slow, you get your free Satoshi.
Best regards, Adrian and Shanti