Coinpayu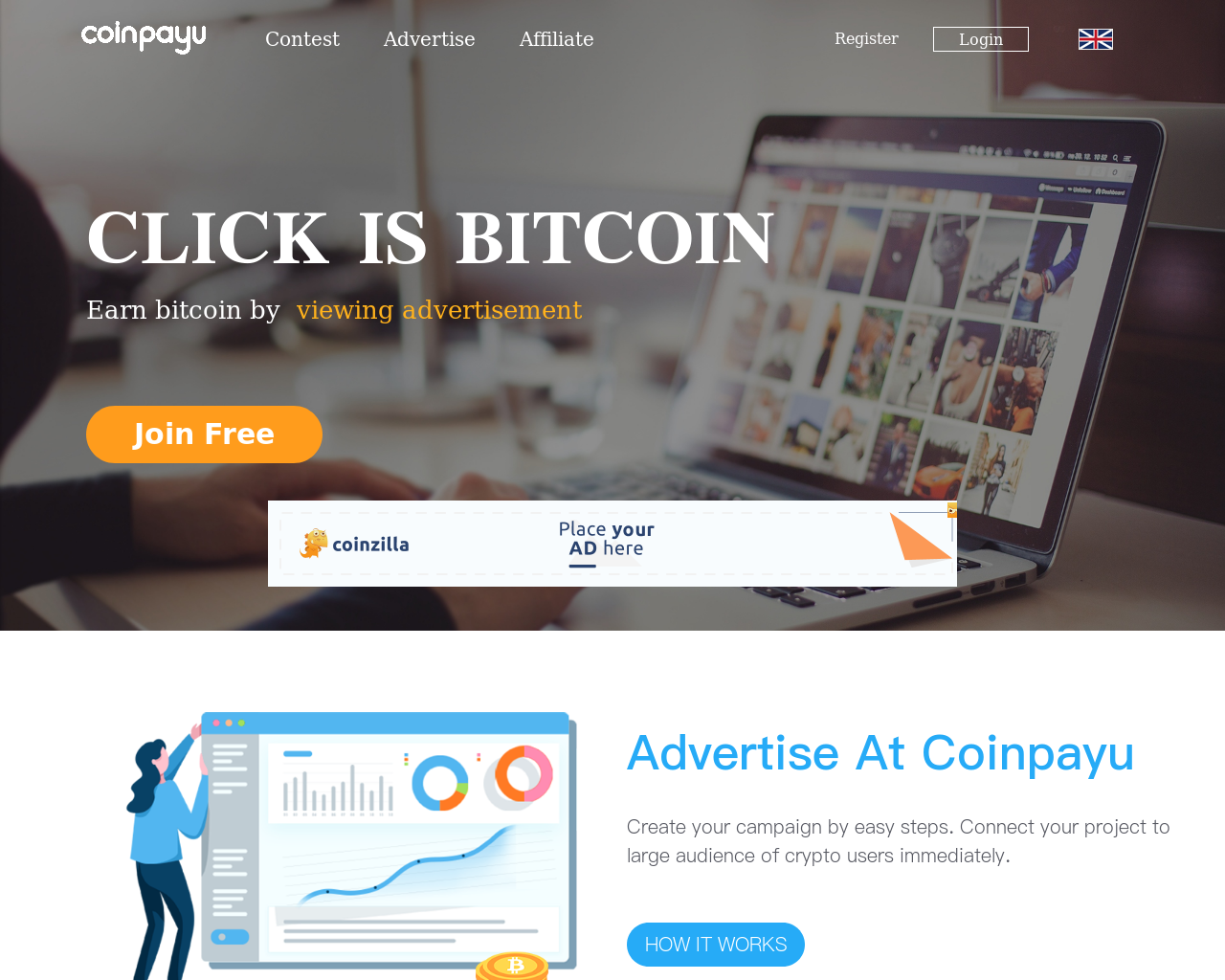 Rating:
5,00
Operator:
Unknown
Country:

USA
Language:

Start:
2017
Total Payouts:
8
Ref-Commision:
20 %
Minimum Age:
Years
Micro Wallet:
Faucetpay
Claim Time (in min):
60 min
Earnings:
High
Captcha:
Yes
Payout:
automatically
Payout-Limit:
0,0001
Currencies:

Bitcoin,

Bitcoin Cash,

Cardano,

Dash,

Doge,

Ethereum,

Litecoin,

Tether,

Tron
Register now at Coinpayu
Pro- and Contra for Coinpayu
Ads doesn't need to be in focus
Very high payment
2 Factor Authentication
Paid Surveys
No information about the owner
The video ads pay too less compared to their other ads
What's Coinpayu?
Coinpayu is a PTC site, and let us tell you, it is great. It seriously is great. You just have to register at Coinpayu and then you are able to immediately earn Bitcoins while watching ads. You can also easily create your own advertisments and promote a site of your choice. The site is really well designed and offers an intuitive user interface and a modern look.
Sadly, we couldn't find any information about the owners of Coinpayu, we only know that the URL is registered in USA and it is registered since 2017. That's why we think Coinpayu was founded back then, but we can't say for sure.
How can I earn Bitcoin at Coinpayu?
Coinpayu pays you to click on ads and it offers 3 different types of ads for you.
The first one is called Surf Ads. You click on an ad, wait a few seconds and then you get paid for it. After a few ads you have to solve a captcha to prove that you are not a robot, but it's easy to solve. The payment is really great and the absolute best thing is that the ads doesn't need to stay in focus. That means, you can easily do other stuff while earning Bitcoin at Coinpayu. You can do it while playing a game, surfing the internet or watching a series, it's easy to do besides other stuff. There are a lot of ads to watch, while writing this, 36 ads were available and you get between 15 and 5 Satoshi for one ad.
The second type of ads are called Windows Ads. You also have to click on them, but you have to keep the tab in focus. That makes it tedious, but if you have a second monitor, you can use a nice little trick. You keep the tab in one monitor and do stuff on the other one. You only have to hover your mouse over the tab with the ad. Like that, you can read or watch something while waiting. That works pretty well and makes the Windows Ads way less tedious. You also have to solve a Captcha after every few ads. Despite that Windows Ads are more work then the Surf Ads, they don't pay better. There are also less Windows Ads available, but to get the maximum out of Coinpayu, you should do them too. They are still worth it, despite their flaws.
The third method to earn Bitcoin at Coinpayu are their Video Ads. Like the name implies, you have to watch Videos and then you get paid. The payment is still good, but it's way less than the other 2 types of ads offer. Sadly, the trick with the second monitor doesn't work here, but we still recommend to watch them, because the payment is still good.
We did all the ads for 3 days and well. we earned 825 Satoshis. That's just awesome.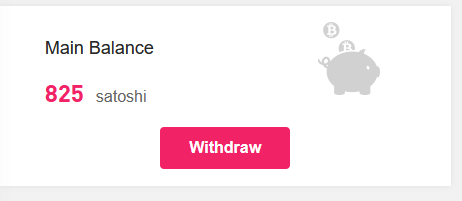 NEW: Coinpayu now offers also a faucet
When you click on "More" on the left menu you will find an easy faucet to claim ;)
Official Youtube-Video: Coinpayu introduction

How high is the referral commission?
We don't know why, but Coinpayu decided to hide the information about the referral commission a bit. But if you check their FAQ, you see that you will get 20 % of everything your referral earns. He doesn't earn less, you just get it as a bonus from Coinpayu. You also get 20 % from everything your referral spends on ads. That's really great, because it's easy to earn a few hundred Satoshis every day from Coinpayu and if you manage to get a few active referrals, you will easily earn a lot of Satoshis just from the referral commission.
When can I withdraw my Bitcoin from Coinpayu?
You can cashout with a cryptocurrency of your choice, Coinpayu offers Bitcoin, Dogecoin, Ethereum and Litecoin. You can also withdraw directly to your wallet or to Faucetpay, whatever you prefer. The minimum amount to withdraw is 10000 for Satoshis, but it changes depending on the cryptocurrency you want. You don't have to pay a fee when you withdraw, that's great, because most PTC sites take a hefty fee for withdrawing money. By the way, if you want to withdraw, you first have to fill in your wallet adress, you can do this in your profile. After writing your wallet adress, click on Next. You then get an e-mail with a code you have to insert. Only if you do this, you can fill in your wallet, it's for safety reasons. Like that, nobody can change your wallet adress without access to your mail account.
Our conclusion for Coinpayu
If we had to describe Coinpayu with one word, it would simply be "great". It pays really well, the design is intuitive and everything works great. The ads are easy to watch and you can even do them besides other stuff. There are only a few sites out there that are this great like adBTC and we wholeheartedly recommend to use every one of them. It's easy to withdraw your money, because the payment is that good. It will only take a few weeks till you can withdraw your money, even if you have no referrals. You should try Coinpayu right now, believe us, it is THAT good. You will not regret it.
Payment Proof Coinpayu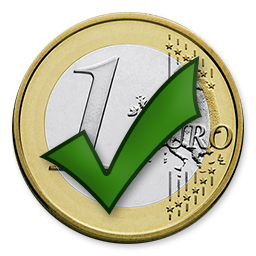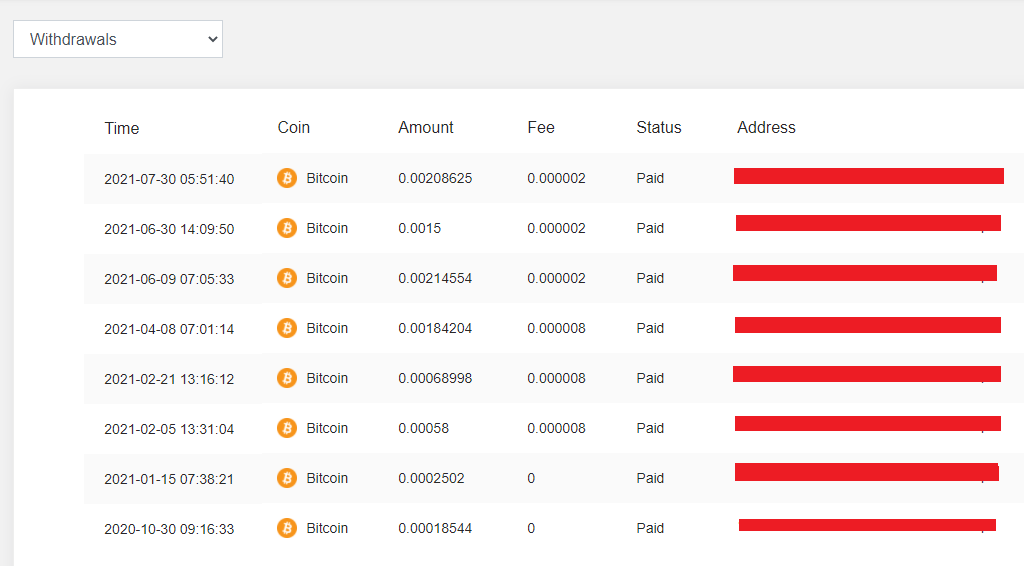 Register now at Coinpayu

If you like Coinpayu, you may also like: