Moon Dogecoin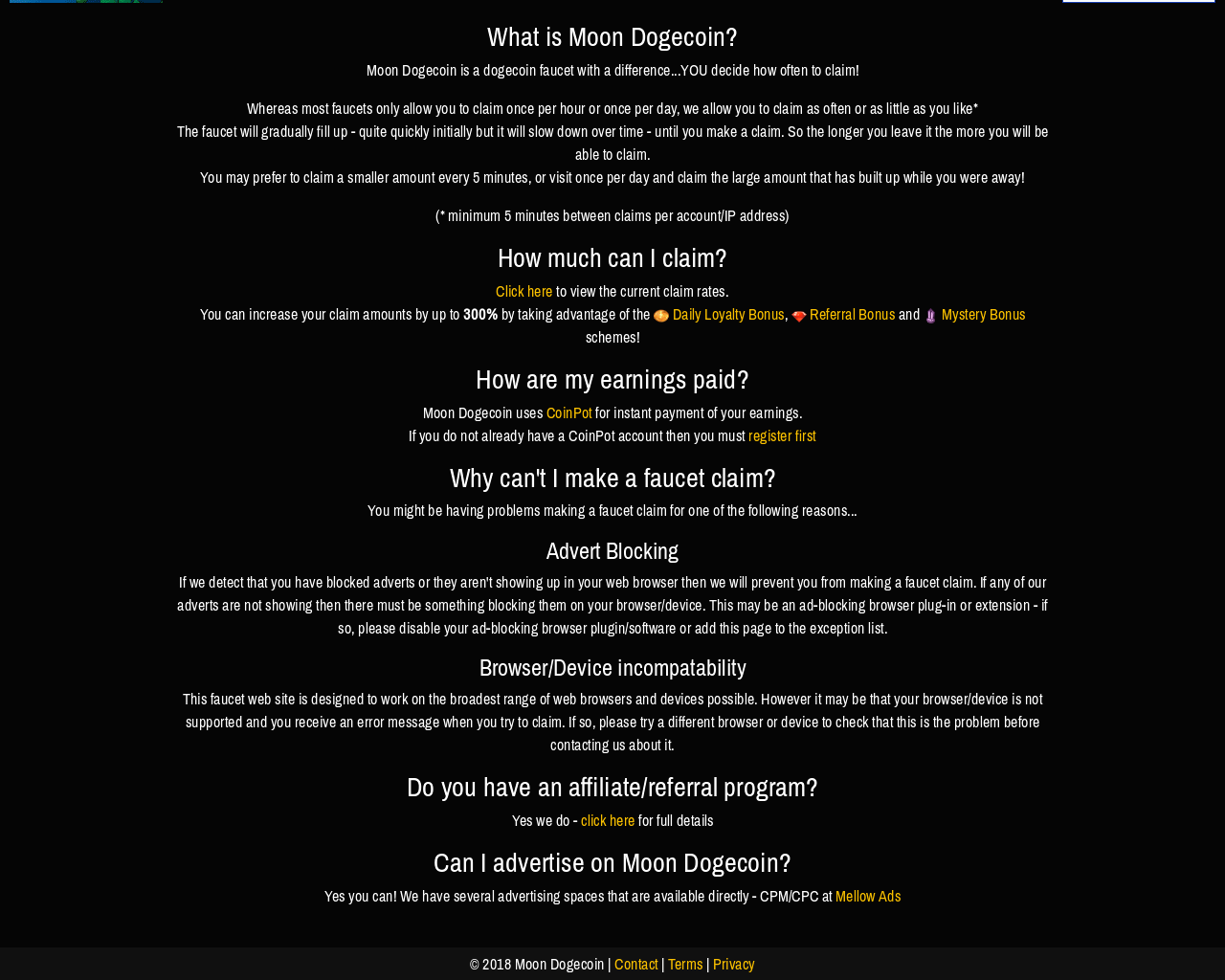 Rating:
4,00
Operator:
Unknown
Country:

Australia
Language:

Start:
2015
Total Payouts:
15
Ref-Commision:
25 %
Minimum Age:
Years
Micro Wallet:
Claim Time (in min):
5 min
Earnings:
Good
Captcha:
Yes
Payout:
manually
Currency:

Doge
Pro- and Contra for Moon Dogecoin
Well paying
Instant withdrawal to your Coinpot wallet
No information about the mystery bonus
No information about the owner
What's Moon Dogecoin?
UPDATE: Bad news for all faucet users - Coinpot shuts down!
Moon Dogecoin is one of the oldest faucets and it's also one of the best. It's online since 2015 and there is a good reason, why it's online and working for such a long time . Because it's well paying and not overflooded with ads. Sadly, you find no information about the owner at all, but that's typical for faucets. The layout of the site got remade in June 2020 and since then, it looks quite modern.
How can I earn Dogecoin at Moon Dogecoin?
This is one of the rare sites these days that offers only a faucet. No games, no offerwalls, nothing. Just a faucet. Before you can start to claim at Moon Dogecoin, you need to make an account at Coinpot.
As soon as you have your Coinpot account, you can start to claim some Dogecoins. You only need to sign in with the same mail adress you used for Coinpot. This is REALLY important, because if you use a wrong mail adress, you lose the Dogecoins you claim. You don't need to register at Moon Dogecoin, just sign in with the correct mail adress and you are done.
Now you just have to click on the buttom "Claim now" and you instantly get your Dogecoins to your wallet at Coinpot. As soon as you claim, you see exactly how many Coins you get. You also get 3 different bonuses when you claim.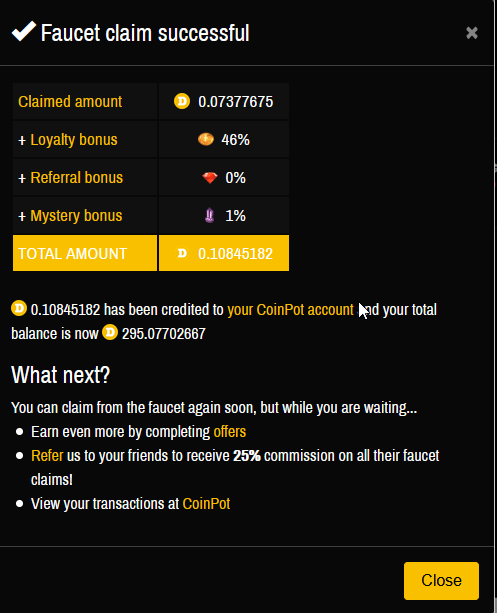 1. The Loyalty bonus
If you claim at least once a day, you get a loyalty bonus. It rises by 1 % for each day you claim. As soon as you miss a day, your loyalty bonus goes back to 0. That's a bit harsh, but even without any bonus, Moon Dogecoin is still worth it. You can claim every 5 minutes and if you do so, you earn the most. But that's really time consuming. The cool thing is, the longer you wait between your claims, the more Coins you get. It's enough to claim once a day and you still earn a good amount of Dogecoin every day. Not as much as you would earn if you claim every 5 minutes, but it's still really good.
2. The Referral bonus
You also get 1 % more Coins for every active referral you have. A referral counts as active, when he has claimed at least once in the last 3 days. Additionally, you get 25 % commission of the Coins your referral claims. Of course, it's just a bonus for you, your referral doesn't get less coins.
3. The Mystery bonus
This one is a mystery, nobody except the owner of the faucet knows how it works. Maybe it's random, maybe not. Still, you get some more Coins when you claim, so it's quite cool. That means, if you are lucky with the mystery bonus, you get 4 times the amount of coins per claim. It's really a lot and it's absolutely worth your time.
Additionally with every claim you get 3 Tokens at Coinpot. The faucet doesn't inform you about that, but you can see them when you check your Coinpot account. You also get 1 Token for every claim your referral makes. The Tokens aren't a real cryptocurrenciy, but you can trade them directly at Coinpot in a cryptocurrency of your choice. They aren't worth much, but it's free money, so go and grab it :-)
The only real downside of Moon Dogecoin is the complete lack of information about the owner. If you encounter any problems, you can try to message their support, but if they can't or won't help you, you are out of luck. That's why you should always try to send your Coins from Coinpot to your wallet as soon as you can. Like that, you can't lose much.
Our conclusion for Moon Dogecoin
Moon Dogecoin has been active for 5 years and it's still going strong. It's an oldschool faucet without any extras, but that's completely ok, because the faucet is really good. It pays well, it doesn't take much time to claim and it pays directly to your Coinpot wallet. We recommend that you try Moon Dogecoin and the other Coinpot faucets, because they are the best faucets you will find.
Payment Proof Moon Dogecoin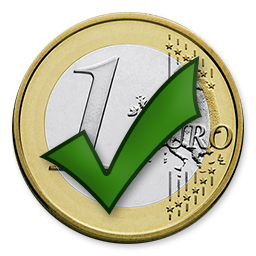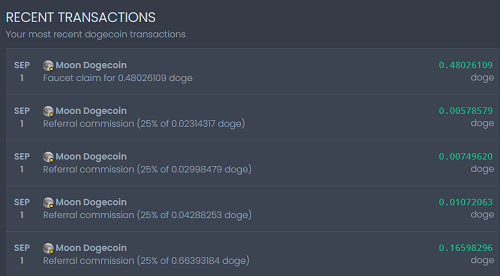 If you like Moon Dogecoin, you may also like: