Bitdaily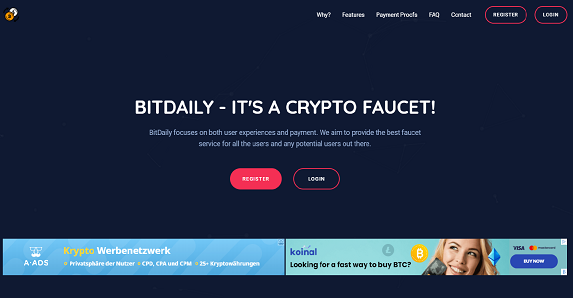 Rating:
1,50
Operator:
Unknown
Country:

Colombia
Language:

Start:
2021
Total Payouts:
1
Ref-Commision:
1 Level (50%)
Minimum Age:
Years
Micro Wallet:
Faucetpay
Claim Time (in min):
24 hours
Earnings:
Low
Captcha:
Yes
Payout:
automatically
Currencies:

Bitcoin,

Bitcoin Cash,

Dash,

Doge,

Ethereum,

Litecoin,

Tether,

Tron
Register now at Bitdaily
Pro- and Contra for Bitdaily
Pays instantly to FaucetPay
No withdrawal fee
No minimum amount to withdraw
Very high referral commission
Only shortlinks to earn Bitcoin
owner stays anonymous
Low payment
Not working Captcha
What is Bitdaily? Bitdaily Review - Scam or Legit?
Bitdaily is a Faucet, but not a classic one. You can't claim manually from the Faucet, Bitdaily only offers an Autofaucet. That means, it claims automatically and you only have to fill it with Energy. We will tell you later, how you get Energy.
Bitdaily looks really clean. Not many ads, easy to use and the best thing is, no annoying ads. No redirects, no popups. That makes Bitdaily really good to use. It's online since 2021 and the it's registered in colombia. We know nothing about the owner. That's quite common for Faucets, but it's always a downside. If a Faucet wants to be a legitimate business, it should tell you, who the owner is.
How can you earn Bitcoin at Bitdaily?
Sadly, Bitdaily only offers one thing to earn Bitcoin with. Shortlinks. The Shortlinks work great and for every Shortlink you do, you get some Token. Token are the currency at Bitdaily and you can chose, which cryptocurrency you want when you withdraw. There are a lot of different currencies available like Tron, Bitcoin, Dogecoin and a few more.

Withdraw your earnings
You can only withdraw your money to FaucetPay. The great thing is that Bitdaily pays instantly. That means, they can't scam you, because as soon as you do some shortlinks, just withdraw your money. Absolutely no risk for you. The downside though is the bad payment. Currently, you earn Token with a worth between 1 to 2 Satoshi per Shortlink, that's really not much. Additionally, you also earn energy.
With energy, you can start the Autofaucet. For each Shortlink, you get 1 energy and the Autofaucet uses 1 Energy every 10 seconds. You then get 20 tokens. Around 50 tokens are 1 Satoshi currently, but the rate depends on the price of Bitcoin. The payment is really low for the Autofaucet.
There is no other option to earn Bitcoin or another cryptocurrency at Bitdaily. We hope, they will add some more things to do in the future. But if you like Shortlinks and prefer to get paid instantly, you should try Bitdaily.
Youtube-Video: Bitdaily (sorry for the bad audio)
How high is the referral commission?
Bitdaily offers 50 % of everything your referral earns. That's REALLY much. You get it as a bonus, your referral doesn't earn less. But because the overall earnings are really low, even if you refer some people to Bitdaily, you won't earn much. But if the admin of Bitdaily keeps working on it and adds some more things to do, it could be really great if you refer some people to it.
Our conclusion for Bitdaily
Bitdaily looks nice and it works great, but currently, there is not much to do. Only Shortlinks and to be honest, that's a bit too less to really make it a great Faucet. Besides, the payment is not really good. We hope, that the admin works on Bitdaily and adds some more things to earn Bitcoin with. If he does so, it could become a really great Faucet, especially with the instant payment to FaucetPay. That's great, like this there is 0 chance to get scammed. If you like Shortlinks and want to get paid instantly, try Bitdaily. If you want a Faucet with a lot to do, it's the wrong place for you.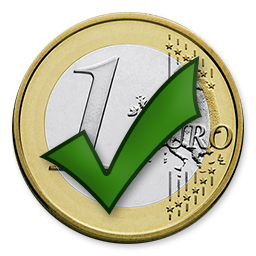 Register now at Bitdaily
If you like Bitdaily, you may also like: