Yannik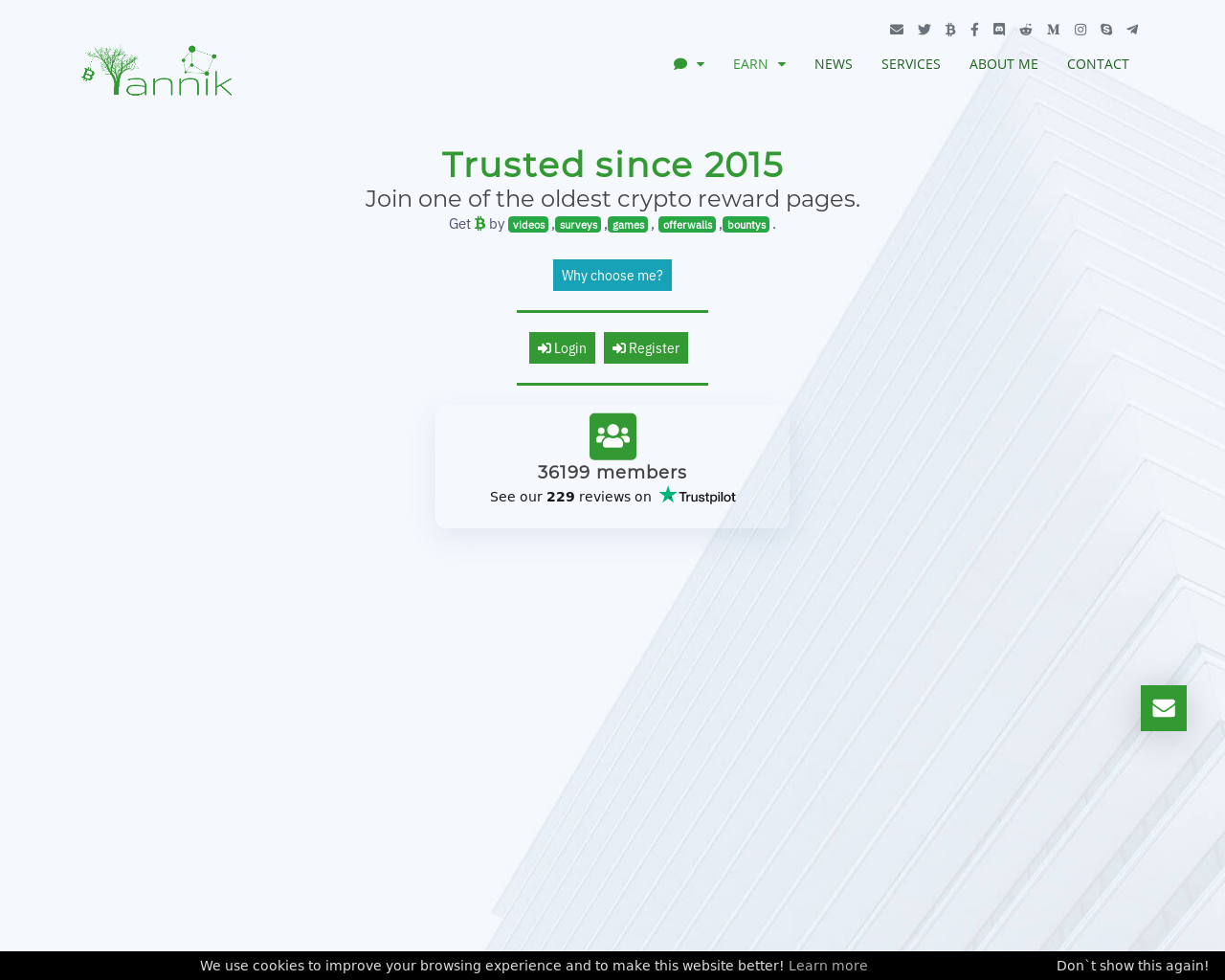 Rating:
2,50
Operator:
Yannik Kunz
Country:

Germany
Languages:


Start:
2015
Total Payouts:
1
Ref-Commision:
1 level, 15 %
Minimum Age:
Years
Claim Time (in min):
BTC 10 min
IOTA 60 min
Earnings:
Good
Captcha:
Yes
Payout:
automatically
Payout-Limit:
0,0003 BTC or 0,0001 IOTA
Currencies:

Bitcoin,

IOTA
Register now at Yannik
Pro- and Contra for Yannik
Well paying
The owner is known
Cool blog features
Fast claim
High minimum withdrawal
The design looks a bit weird
What is Yannik?
Yannik is a german faucet and it's on the internet since 2015. That means, it's one of the oldest faucets out there and there are some good reasons, why it's around for so long. It's well paying and really easy to use. You can earn Bitcoin and IOTA there.
Sadly, the interface it really bad. It's hard to navigate through the site, because everything seems to be out of order. It's hard to describe, it's best to see for yourself. Nevertheless, it's still a really good faucet and we can recommend it.
You also see the admin of the site in the imprint and that's really rare. Most owners are completely anonymous and if some problems occur, you get no help at all. At Yannik, you know exactly who is operating it and in the worst case, you could even sue him. That's a really good sign for a legit faucet and it's way too rare in the world of cryptocurrencies.
annik.biz - GET FREE BITCOIN
How can I earn cryptocurrencies at Yannik?
First off all, you earn IOTA and Bitcoin from the faucet. You can claim Bitcoin every 10 minutes and IOTA every 60 minutes. You don't have to use a shortlink or other annoying stuff, just solve a captcha and you get your coins. If you claim at least once every 24 hours, you get a loyalty bonus. Each day it rises by 1 % to a maximum of 100 %. That means, if you claim for 100 days in a row, the amount of Satoshis for each claim doubles. If you forget to claim once every 24 hours, you have to start from scratch again. That's a bit harsh, we would prefer to give you some more time, before you have to start over with your loyalty bonus. It's hard to go on holiday and instantly lose your loyalty bonus.
The amount you can claim stacks up. That means, the longer you wait, the more coins you get. You can see the claim rates directly at the faucet.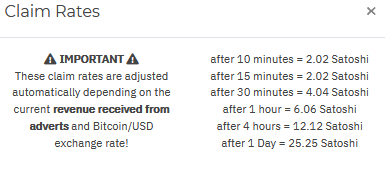 As you can see, you earn the most if you claim every 10 minutes, but it's also fine if you claim once a day. Keep in mind that the amount of Satoshis vary. It depends on the price of Bitcoin, if Bitcoin goes down, you earn more Satoshis, if Bitcoin rises, you earn less Satoshis. You always get the same amount of Dollar worth in Satoshis.
Yannik also offers other earning opportunities besides the faucet. If you like to gamble, you can also use their Provably Fair Hi and Low Game. But we don't recommend it, because the chances to win are just 49.5 %. But if you feel lucky, feel free to test it.
Yannik offers a variety of different Offerwalls.
You can see, what you can do at each Offerwall right under the name, so you don't have to click on it and check it. Some Offerwalls are limited to different countries, if one Offerwall doesn't work for you, try another. Keep in mind, that if some problems with the payment from an Offerwall occurs, you can only contact the support team from the provider. The admin of Yannik can't help you with such problems.
Another method to earn Satoshis at Yannik are the PTC Ads. You have to click an ad, stay at the site for a few seconds, solve the captcha and click on claim. You are instantly rewarded. You see exactly how many seconds you need to stay on the site and how many Satoshis you earn in the overview.
Yannik is more than a faucet.
Yannik isn't just a site to earn some free Bitcoin, it also includes a small blog with the latest news about cryptocurrencies. Sadly, the news are rare, but we think, it's a nice idea. It would be nice if the blog would get some updates regularly.
If you promote Yannik on Twitter, Facebook, in a forum or write a review for your blog, you also get some Satoshi. That's a great idea and we really like it. Like that, you can get referrals and earn some Satoshi directly from Yannik. You profit twice for one review, that's awesome. For every person you refer, you get 15 % of their claims. You have to claim at least once every 24 % to get the money from referrals, that means, if you are inactive there with a lot of referrals, you get nothing.
Our Conclusion
Yannik is one of the oldest faucets out there and it's also one of the best. Sure, the site looks a bit odd and the minimum withdrawal is quite high with 30000 Satoshi, but you can be sure to reach it in a decent amount of time. If you just claim the faucet and watch the PTC ads, you can easily earn around 60 Satoshis a day without any effort at all. If by any chance the admin decides to improve the layout of the site, it will be an even better faucet. But still, Yannik is a great faucet and you should absolutly use it at least once every 24 hours to earn your loyalty bonus.
Payment Proof Yannik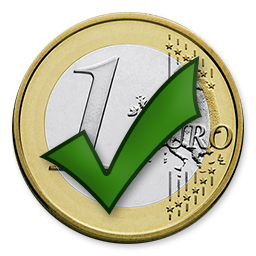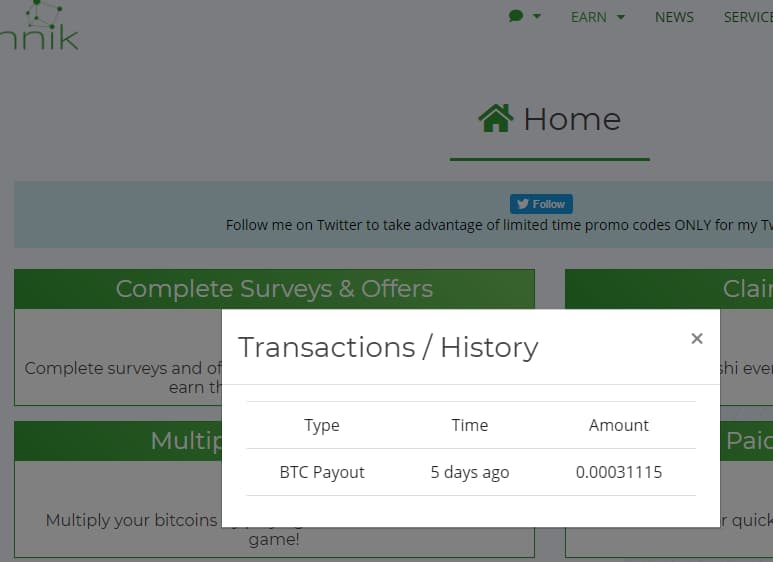 Register now at Yannik
If you like Yannik, you may also like: