Bitcoin Faucet News July 2021
2021-07-03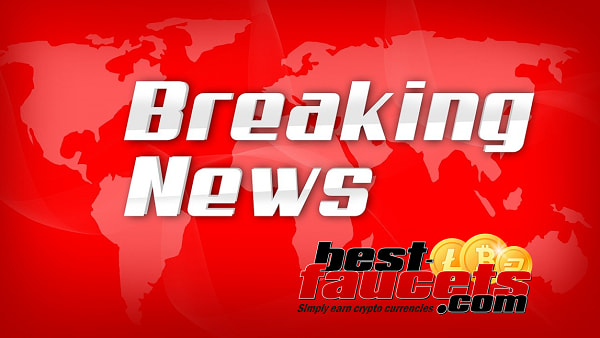 The last few months were exciting for all crypto enthusiasts. The price of Bitcoin and his friends rose to the sky. But the most exciting journey had Dogecoin. The price went up to nearly 1 Dollar for 1 Doge, fueled by Elon Musk. But since then, it got down back to around 0.2 Dollar. That's still a lot, compared with before, but since then Dogecoin stays stable and doesn't rise or fall further.
The owners of Faucets also weren't lazy and a lot of Faucets changed a bit. To keep you up to date, we made a short collection of the most important news regarding Faucets for you.
Coinpayu offers new cryptocurrencies
Coinpayu is one of our favorite sites. The earnings are awesome, the usability is great and it pays regularly without any troubles. It's one of the best PTC sites out there and the admins are working hard every day to improve it. To offer you a bigger variety of cryptocurrencies, they added some cryptocurrencies. You can now withdraw your money to Faucetpay, Bitcoin, Dogecoin, Bitcoin Cash, Tether and many other cryptocurrencies. You can even cashout to Payeer if you don't want cryptocurrencies. But we really don't know, why anybody would dislike getting paid in a cryptocurrency of his choice :-)
And here are some other great news from coinpayu:
2021-04-06 01:53:20 - About next referral contest
For the next referral contest, the total prize will increase from $600 to $1000.
2021-03-30 01:46:30 - Referral commission update
The ads surfing and ads spending affiliate commission are paid daily to your balance.
Previous it is updated immediately. The change is made to reduce the server load an make site faster.
2021-03-24 05:43:00 - About faucetpay bitcoin address
Please note that your bitcoin address in the Faucetpay is regenerated. If you are still using the old address to withdraw, we will reject.
Please fill your new bitcoin address to avoid loss.
2021-03-23 00:13:52 - Faucetpay is open for withdrawal again
Faucetpay is open for withdrawals again.
The mini withdrawal amount of Faucetpay Payeer LTC BCH Dash reduced from 3000 to 2000 satoshi.
Cointiply also added new currencies
Cointiply is one of the oldest Faucets and it's still going strong. To make it even better, you can now withdraw your Coins with LTC or Dash, as soon as you have 30000 Coins.
And Firefaucet also added new currencies and a new highlight
One of the best Faucets available, FireFaucet, got even better. FireFaucet now offers you Giftcards to withdraw your money. Currently, you are getting 10 % discount on every Giftcard and you even get some ACP. ACP is the resource you need on FireFaucet to keep the AutoFaucet running. Of course we immediately tried the Giftcards and they work perfectly. We decided to withdraw 5 Euro for Amazon and we could use it without any problems. The shops available are depending on the country you live in, but there are some big ones like Amazon and Zalando included. We are sure, you will find a shop you like to get some Giftcards for.
This is the official message: "Each gift card redemption now also gives you a lot of activity points depending upon the value of the gift card. Currently, for every $ you will get 250 activity points. This value may change in the future. We hope you like this update. Feel free to give your feedback on support ticket or let us know if you have any suggestions.
Here are some of the highlights of this update:
- Added 3 new cryptocurrencies:
- Binance BEP20 - BNB (Binance smart chain)
- Monero - XMR
- Nano - NANO"

Settings for FreeBitco.in
We are registered at FreeBitco.in for years but we still learned something new in the last weeks. Every time you claim from their Faucet, you get some Bitcoin and Tickets for their lottery. You also get reward points, which you can use to buy some nice stuff like mobile phones or just change them to Bitcoin. But we didn't know, that you can disable the Tickets and instead get reward points every time you claim. Because we don't like to gamble and the odds of winning are really slim, we changed it and now we earn a lot more than before. To do so, you just have to click on more and then on profile. Look for "Disable Lottery & Interest" and there you can disable the Lottery. Like that, instead of Tickets you receive reward points. That also applies to your referrals.
Litecoinads is offline
Sadly, there are also some bad news. Litecoinads stopped working. We didn't recommend it because the earnings were really bad, but now they decided to scam everybody. First, they showed a message that Litecoinads will be back, but now it's just a 404 Error. That means, the admins just closed their site. We hope, that you didn't lose many Litecoin. We also updated our review but we decided to keep the old review online. Like that, everybody can see what we originally thought about Litecoinads and still be warned from using it, if it ever comes back online.
AutoFaucet.Dutchycorp offers interest
One of our favorite Faucets, AutoFaucet.Dutchycorp, now offers you interest. The Faucet is not only fun to use, the earnings are also pretty good. And now, the earnings are even better. Instead of using your Dutchy to keep your AutoFaucet running, you can also decide to stake them to earn interest. You need a minimum of 1000 Satoshi to start staking and the interest varies between 8 % and 30 % per year, depending on the cryptocurrency you want and the amount of Dutchys you stake. You can unstake them whenever you want and get your Dutchys back and the interest is calculated at least every hour. So you even get some interest if you only stake for a day. It's a really great feature and we hope, that you earn even more now at AutoFaucet.Dutchycorp.
<< El Salvador wants Bitcoin as official means of payment
Ethereum burns $10 million a day >>