Multicoins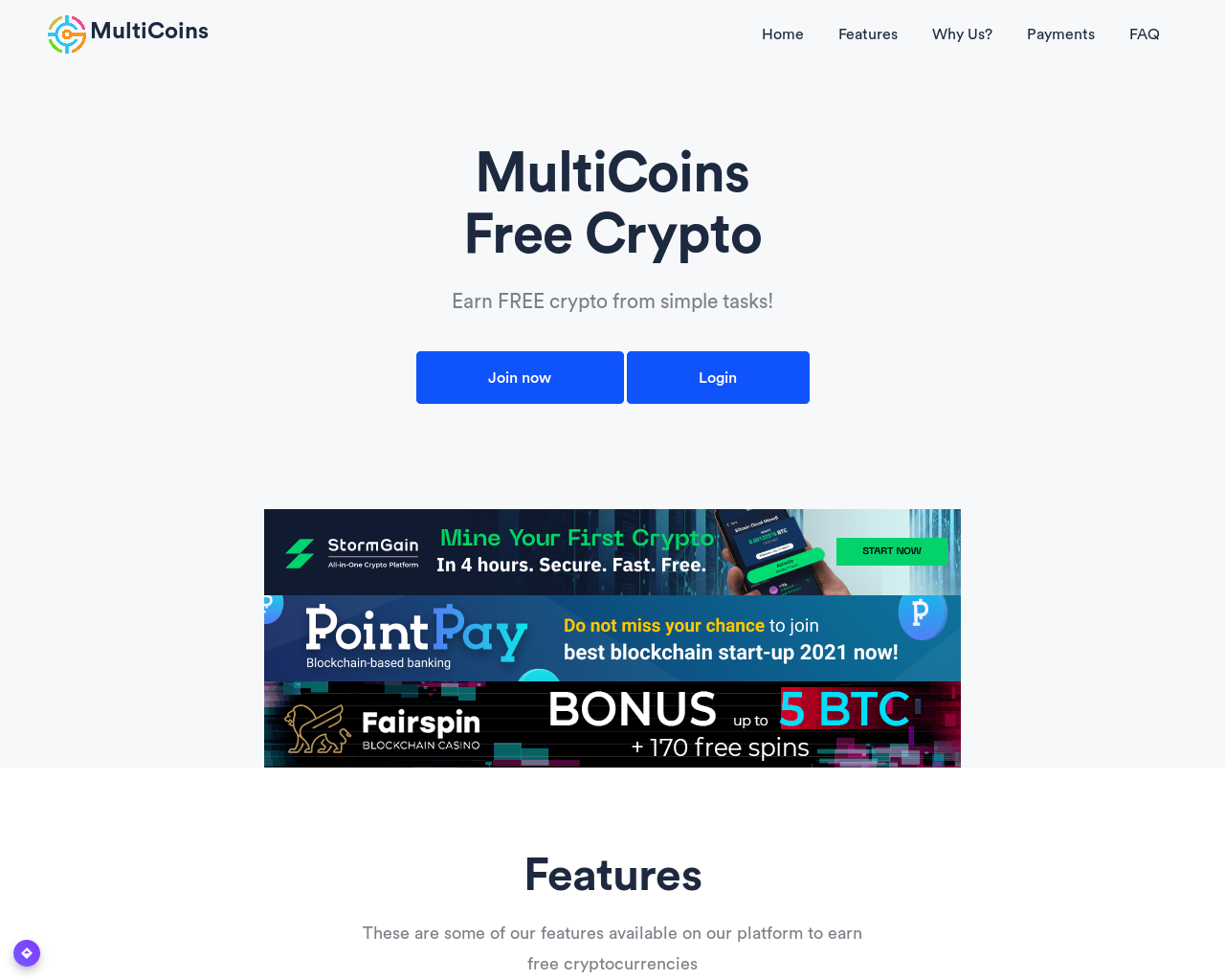 Rating:
2,00
Operator:
Unknown
Country:

Iceland
Language:

Start:
2021
Ref-Commision:
1 Level (5%)
Minimum Age:
Years
Micro Wallet:
Faucetpay
Claim Time (in min):
5 min.
Earnings:
Low
Captcha:
Yes
Payout:
manually
Payout-Limit:
0.1 US-Dollar
Currencies:

Bitcoin,

Doge,

Litecoin,

Monero,

Tether,

Tron
Register now at Multicoins
Pro- and Contra for Multicoins
Offers different Cryptocurrencies than other Faucets
still relatively unknown
Low Payment
Owner stays anonymous
What is Multicoins?
Multicoins is a Faucet, that offers 5 different cryptocurrencies. The cool thing is, it offers less used cryptos like Monero or Tether. Both of them are rarely used at faucets. The design is not unique, it's a well known script used by a lot of other faucets too. But it works well and is easy to navigate. There are some annoying ads though, for example, in the bottom left corner you have an overlay advertisment and you have to click it away all the time, if you want to navigate. That sucks and makes it less fun.
As usual, the owner of Multicoins stays anonymous. The only thing we could find out is, that the domain is registered since 2021 and it's located in Iceland.
How can you earn Coins at Multicoins?
Before we tell you about the different ways to earn at Multicoins, let us tell you, that you don't earn any Cryptocurrency here. First you only earn Dollar! As soon as you want to withdraw your money, you can decide which Coin you want to get. You can withdraw to Faucetpay, Expresscrypto or directly to your wallet, depending on the Cryptocurrency. Payeer is also a viable option, if you prefer to earn Dollar. The minimum amount to withdraw is 0,1 Dollar and 0,5 Dollar for Payeer. That's easily achievable in a few days.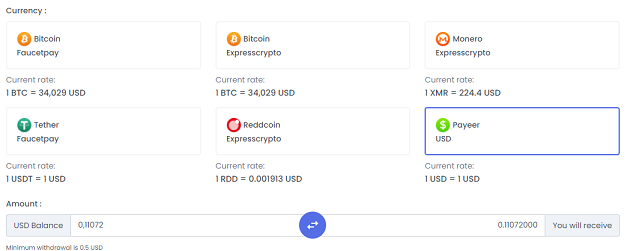 Multicoins offers 2 different Faucets
A manual Faucet and an Autofaucet. The manual Faucet works like a normal Faucet, except it's more work than most other Faucets. You have to solve 2 Captchas and wait a few seconds. Then you get your payment. The Autofaucet works with Energy and you earn it if you do different stuff at Multicoins. With 10 Energy, you can claim once at the Autofaucet. You have to wait 60 seconds, then you lose 10 Energy and get your money. If you have a lot of Energy, it will continue to run until you are out of it.
You can also earn money with Shortlinks
There are over 40 Shortlinks every day and that's really much. You have to solve them and immediately get your money and also 10 Energy for every shortlink.
Multicoins also offers some PTC ads. You watch an ad for a few seconds, solve a captcha and then you are finished. You don't get Energy for the PTC ads and the window needs to stay in focus. That makes them tedious to do. There are also not many PTC ads, most of the time there aren't even 10 ads per day.

At Multicoins you can also play Lottery
If you like to gamble, you can play dice or the lottery. As usual, we don't recommend gambling, because in the long run, you will lose money.
Whatever you do, you will earn Experience. If you have enough experience, you level up and then you earn 0,01 % more from the Faucet. The maximum you can boost your earnings right now is 20 %, but they may increase this in the future.
Offerwalls are also a part of Multicoins...
...currently there are 8 Offerwalls. They are nothing special though, they are the same as everywhere else.
As you can see, Multicoins offers a lot of different things to do, if you want to earn money. But there is one really big downside. The payment sucks. It really does. For example, the Faucet earns you 0,0006 Dollar without a bonus. Currently, that's 1 Satoshi. It's not only less than most other Faucets pay, it's also more work, because you have to solve 2 captchas. Shortlinks pay 0,0007 Dollar, that's around 1,2 Satoshis. Also way too less for that work. Even if you add the 10 Energy for the Autofaucet, it's not worth your time. For every claim from the Autofaucet, you earn 0,0001 Dollar. 60 Energy gives you 1 Satoshi. The PTC Ads don't even pay you 1 Satoshi.
A lot of other Faucet pay more than twice the amount of Multicoins. With such low payment, it's currently not worth your time. For example, Faucetspin offers 5 Satoshis for each claim and the claim is faster than here.
Is there a referral commission?
Multicoins offers a commission, if you refer people to it and wow, what shall we say? You earn 5 % for it. That's really not much. Most Faucets offer between 20 % and 50 %. Because the payment at Multicoins is really low, you will earn nearly nothing if you refer people to it. Better advertise other Faucets, it's just a waste of time.
Our conclusion for Multicoins
Multicoins uses the same Script as a lot of other Faucets, pay way less and even the referral commission is just bad. There is NO reason right now, why you should use Multicoins. It's a lackluster try to earn some money, but only for the owners. Nobody should use Multicoins, until the admins invest some time and effort in it. Right now, it's a waste of time, so we currently can't recommend MultiCoins at all.
Youtube-Video: Multicoins Faucet (without sound)
Payment Proof Multicoins: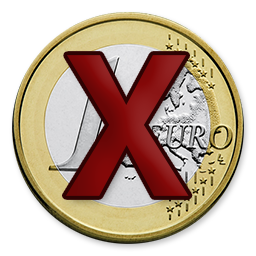 Register now at Multicoins
If you like Multicoins, you may also like: