Faucetspin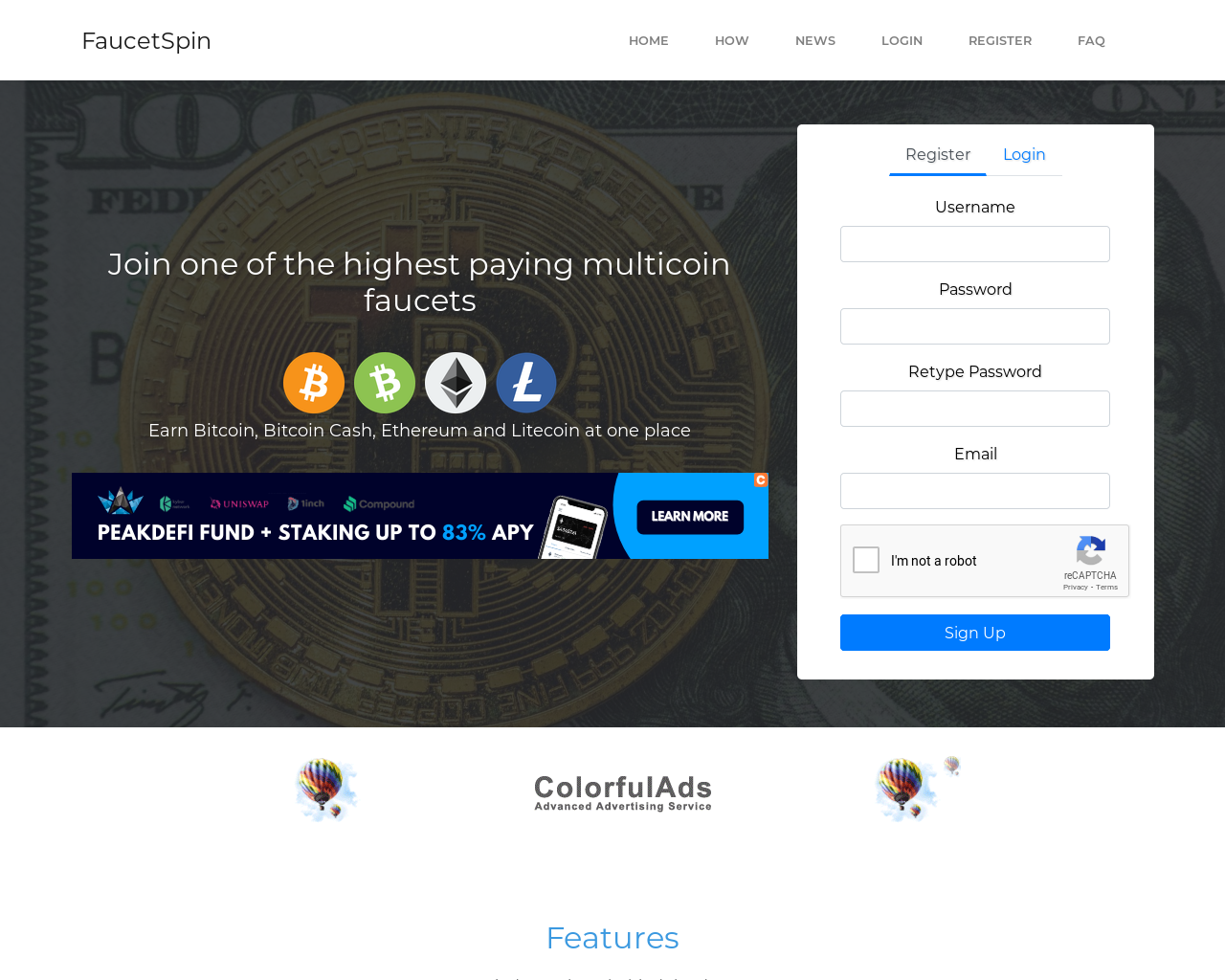 Rating:
0,50
Operator:
Unknown
Country:

USA
Language:

Start:
2020
Ref-Commision:
20 %
Minimum Age:
Years
Micro Wallet:
Faucetpay
Claim Time (in min):
5 - 30 min.
Earnings:
Middle
Captcha:
Yes
Payout:
automatically
Payout-Limit:
0.0001 BTC
Currencies:

Bitcoin,

Bitcoin Cash,

Ethereum,

Litecoin
Pro- and Contra for Faucetspin
PTC Ads don't need to be in focus
Very high payment
Good FAQ Section
Intuitive Script
Owner stays anonymous
Not many PTC Ads
What is FaucetSpin?
UPDATE FROM OCTOBER 2021
It really hurts us to say, but sadly, FaucetSpin turned out to be a scam. Altough we got paid in the past, in the last few weeks, payments aren't coming anymore. We currently can't withdraw our Coins from Faucetspin and also, the last news is over 5 months old. We don't think, it will become a legimiate faucet again. Please stay away from it for now. We still let our old review online though. Just don't register there anymore.
FaucetSpin is a Faucet, as the name already implies. You can earn Bitcoin, Bitcoin Cash, Ethereum and Litecoin. The design is really good, it's simple and easy to use. A lot of Faucets tend to fill their site with unnecessary things and that makes it hard to navigate. FaucetSpin keeps it clean and beautiful. The site is also not completely full of ads, you can use it without being annoyed by ads all the time.
There is one downside though, the owners are not known. It's a usual thing for Faucets that the owner stays anonymous, but it's not a good thing. We still researched, but all we could find was, that the Domain was registered 2020 and it's located in America.
How can you earn Bitcoin at Faucetspin?
There are 2 different ways to earn your favorite Cryptocurrency. You can decide which Cryptocurrency you want to claim, every Coin has it's own waiting time between the claim. You have to wait 30 minutes for Bitcoin, for Bitcoin Cash, Ethereum and Litecoin only 5 minutes. The payment is really good and you don't even have to solve a shortlink for it. Just solve a captcha and you immediately get your Coins.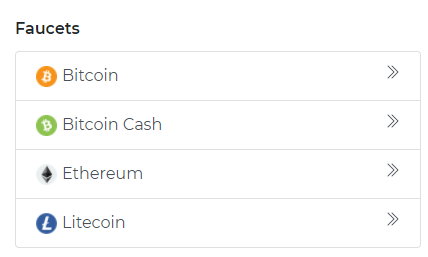 We don't know why the waiting time is different for each Cryptocurrency, maybe you have to wait longer for Bitcoin, because the payment is just too high. While writing this, you get 5 Satoshis for each claim, that's more than double the amount other Faucets like GraBTC or Freebitco.in are paying. We don't think, the payment there is bad, it's just that the payment from Faucetspin is THAT awesome.
The other way to earn are the PTC Ads. Every Cryptocurrency has it's own ads, you can decide, which ads you want to watch. The payment here is also great, but sadly, there are very few ads. Most days, we can only watch 5 ads or less. The ads are easy to do, the window doesn't have to stay in focus. That means, you can watch a series meanwhile or do other stuff. The only annoying thing is, that you have to solve 2 captchas after each PTC ad. That makes them a bit tedious to do, but the payment is great, so we don't mind it.

One downside of Faucetspin is the high minimum withdrawal amount. Currently, you need to have at least 10000 Satoshis for Bitcoin to send your funds to FaucetPay. That's really high, especially because you get your funds to FaucetPay. We haven't received a payout yet, but we checked a lot of reviews and the people get paid. We are still a bit sceptical, because the payment is just too good, but we give Faucetspin the benefit of doubt and think, it's legit right now.As soon as we get paid, we update our review and show you a proof of payment or inform you, that it's a scam. For the other Coins, the minimum withdrawal amount is pretty similar, but you earn way more of them. That means, if you decide to claim all 4 Coins, you can send your funds pretty fast to Faucetpay, except for your Bitcoin there. The owner should really lessen the amount for Bitcoin.
FAQ - Section - Very good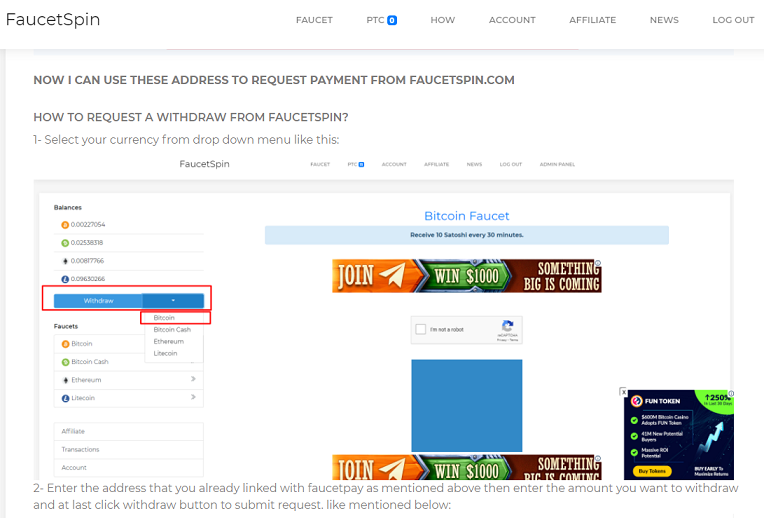 We think the FAQ section on Faucetspin is really good. All questions are described and well explained there with the help of screenshots.
Is there an affiliate program?
Most Faucets offers some incentive to refer people and Faucetspin is no exception. You earn 20 % commission on every claim your referral makes. He doesn't earn less, you get it directly from Faucetspin. 20 % is not that much, other Faucets offer 50 %, but with 20 % at Faucetspin you still earn way more than with 50 % from other Faucets, because Faucetspin pays so well.
Youtube-Video: FaucetSpin FREE BTC Receive
Our conclusion for Faucetspin
Did we already tell you, that the payment is good? If not, let us tell you now, the payment is awesome. Yeah, ok, you are right, we stated that already a few times, but the payment from Faucetspin is so awesome, it deserves to be mentioned all the time. There are no real downsides for Faucetspin except the very high minimum withdrawal amount. We are a bit sceptical, if we get our Coins and as soon as we know for sure, we will inform you.
We recommend, that you register at Faucetspin right now. You won't find a Faucet with higher payment. Why are you still hesitating? Try it out! :-)
Payment Proof Faucetspin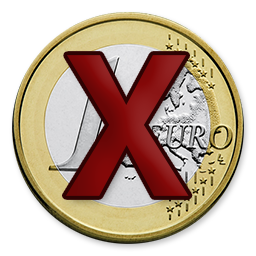 If you like Faucetspin, you may also like: