Freebtc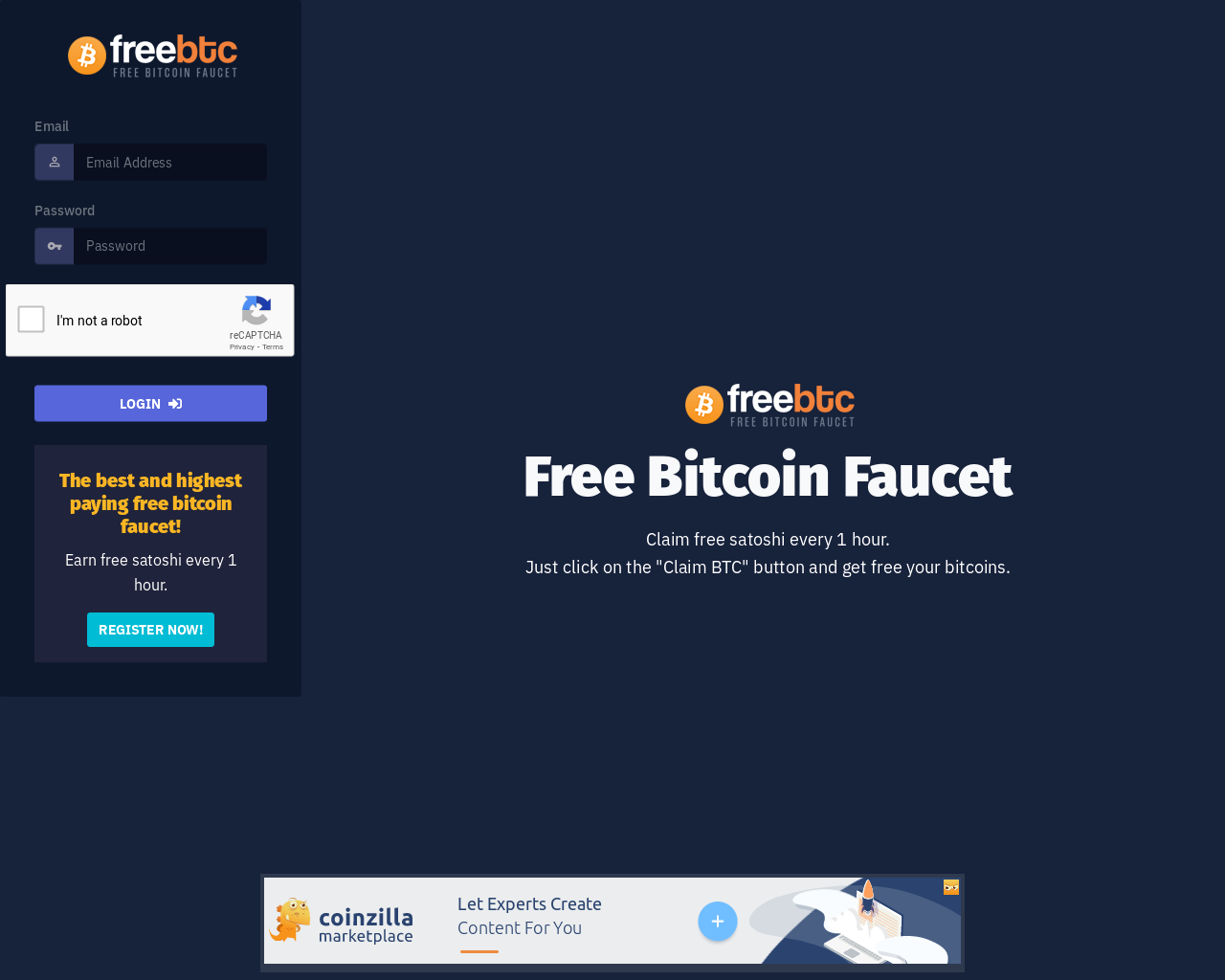 Rating:
0,50
Operator:
Unbekannt
Country:

USA
Start:
2019
Ref-Commision:
50 %
Minimum Age:
Years
Claim Time (in min):
60 min
Earnings:
High
Captcha:
No
Payout:
automatically
Payout-Limit:
0,001
Currency:

Bitcoin
Pro- and Contra for Freebtc
Well paying
Beautiful design
Withdraw directly to your wallet
No information about the owner
Absurdly high withdrawal minimum
IMPORTANT UPDATE
This update is from 30.08.2020:
After this update, you will find our old review of FreeBTC. We decided to let it stay online like it was, because we don't wanna mislead you by editing an older text.
FreeBTC has proven that it's a scam. We were already suspicious, as you can read in our review, but now we know for sure, that FreeBTC is a scam. You cannot withdraw your money without paying to become a premium user. Of course, we didn't try it, because such a thing is already enough to be called a scam. If they don't pay their free users, there is absolutely no doubt that they want to scam people. For us, a Faucet or another site that only pays, when you become a premium user by sending them money is a scam. That's why FreeBTC is now listed on our blacklist and WE CANNOT RECOMMEND IT TO ANYONE. You will waste your time, don't use FreeBTC.
End of Update
What's FreeBTC?
FreeBTC is a beautiful and well designed Faucet for Bitcoin. It pays really well and it has a high commission for referrals. But we still rate this Faucet really low, because it has one major flaw. The minimum withdrawal is absurdly high. You need to claim close to 5000 times to withdraw. Even if you claim 10 times per day, you would need 1 and a half year to withdraw your Satoshis. That's just dumb and we are not sure if FreeBTC is a scam or not. There is nothing written about a fee for withdrawing, but information about anything is really scarce at FreeBTC. So we can't be sure about that yet, we haven't tried to withdraw yet.
We also checked some other revies and most say that FreeBTC is a scam, but we haven't found solid proof yet. The main thing that keeps us going is the nice design and the high payment. Someone clearly used some time to make this site, but sadly, a lot of scams are also very well made.
How can I earn Bitcoin at FreeBTC?
You just need to register at FreeBTC and then you can start to claim. You can't do much more, but when you claim your Bitcoin, you will see, that FreeBTC also offers Bitcoin Cash and Bitcoin SV, but you have to upgrade your account to claim. But even if you press the button "Upgrade to Pro", nothing happens at all. That's another sign that the site is a scam.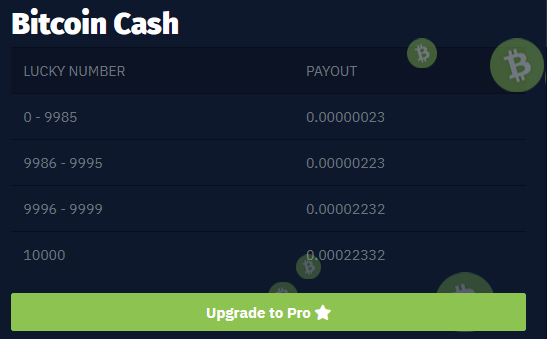 FreeBTC also offers the option to use its autosurfer. You just need to activate it and let it surf for you. You can completely ignore the tab with the autosurfer, it does everything automatically. Sadly, FreeBTC never informs you how many Satoshis you get for surfing. We tried the autosurfer for quite some time but we never got any Satoshi for it. It's working and surfing, but you get no reward at all. Another sign for a scam site. By the way, you also can't find any information about the owner of FreeBTC, another sign of a shady site.

How high is the referral commission?
FreeBTC offers a very high commission for refering people to it. You get 50 % of every claim your referral makes and because FreeBTC is really well paying, you will earn a lot of Satoshis from your referrals. Of course, only if the site is no scam. You shouldn't refer anyone for now, because most likely, they will never get any money from it.
Our conclusion for FreeBTC
FreeBTC has a real nice design and pays well. Two things, we like in a Faucet. Sadly, there are some things that makes FreeBTC really shady and we aren't sure if it's a scam or not. Because the minimum amount to withdraw is absurdly high, we haven't been able to request a payment yet and it will take some time till we can try to withdraw our Satoshis from FreeBTC.
But to be honest, we don't think we get any money from FreeBTC. There are nearly no ads and we don't see any way that FreeBTC can earn enough money to pay its users. Currently, we do NOT recommend anyone to use FreeBTC and you should stay away from it. As soon as we will find out more, we will inform you about it. But to stop you from wasting your time, we will warn you. Don't use FreeBTC, it's most likely a scam. If it turns out to be a scam, we will include FreeBTC in our blacklist. But until it's a proven scam we won't and just give it a low rating.
We hope, it's a paying Faucet but we don't think so. Do not use FreeBTC right now.