Allcoins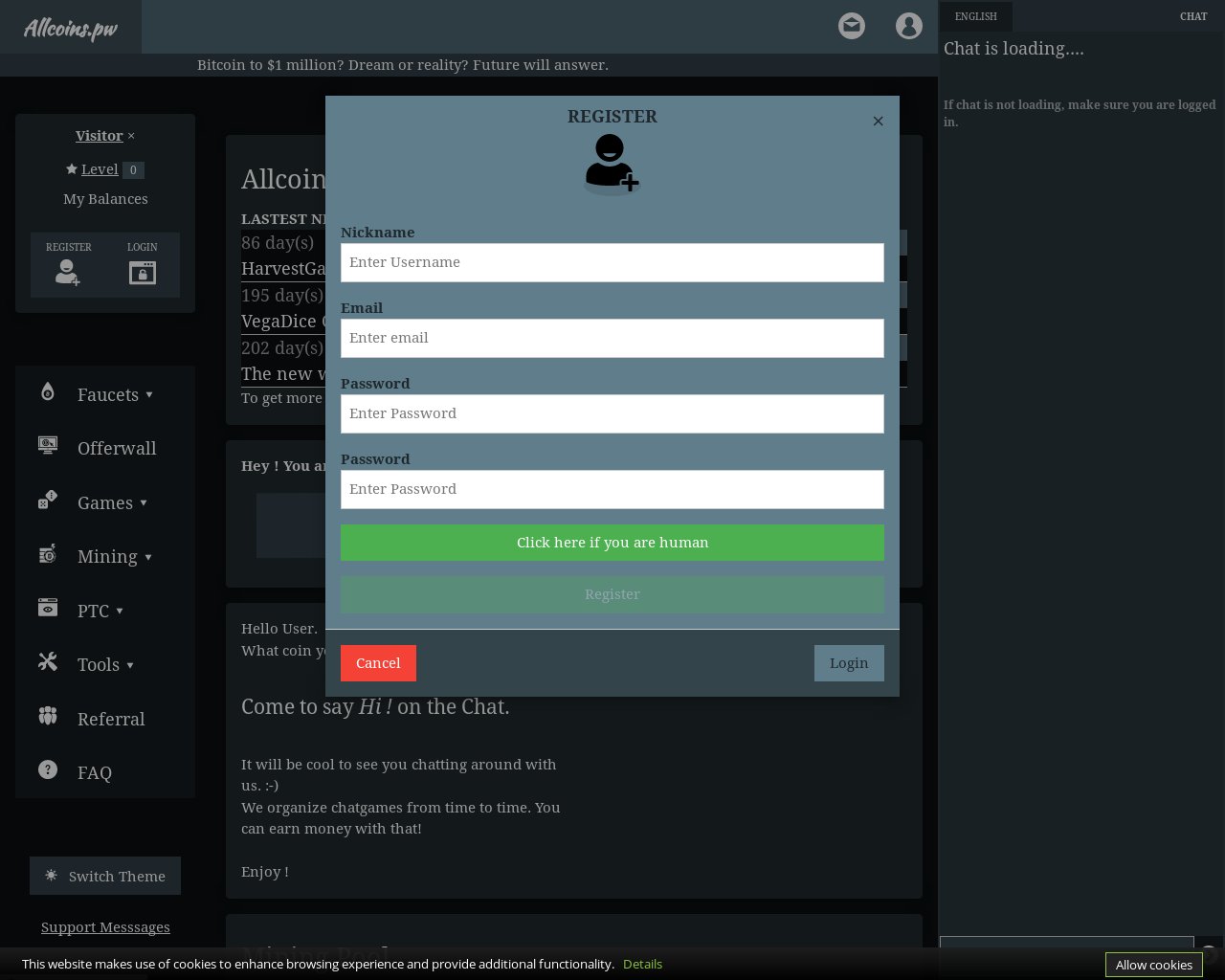 Rating:
3,00
Operator:
Unknown
Country:

USA
Language:

Start:
2018
Ref-Commision:
1 Level (25%)
Minimum Age:
Years
Claim Time (in min):
6 min.
Earnings:
Good
Captcha:
Yes
Payout:
automatically
Currencies:

Bitcoin,

Bitcoin Cash,

Dash,

Doge,

Ethereum,

Litecoin,

Monero,

Ripple,

Stellar,

Tron
Register now at Allcoins
Pro- and Contra for Allcoins
SSL
2 Factor Authentication
Multicoin-Concept
Level-System
Menu a bit confusing
Small number of PTC ads
Oldschool Design
Claim waiting time applies to all currencies
Allcoins is a Faucet, that offers a lot of different Cryptocurrencies. They currently offer 13 different Cryptocurrencies. You can claim popular ones like Bitcoin or Ethereum, but also lesser known Cryptocurrencies like GoGoMonster Token. The site looks a bit chunky, but it works well and it is easy to navigate.
The payment at Allcoins differs greatly. The Faucet pays really low, but the low number of PTC ads are amazing. In theory, you could withdraw every day, because the withdrawal minimum is low. The fee for withdrawing is also really low, but only if you decide to withdraw to GogoMonster. It's a site where you can gamble with GogoMonster Token and other cryptocurrencies. Sadly, if you want to withdraw directly to your wallet, the fee is really high and you also need a lot of Coins to withdraw. For example, Bitcoin. You need at least 5000 Satoshis to withdraw and the fee will be 3500 Satoshis. That's absurdly high.
If you really decide to use Allcoins, only use it if you use GogoMonster. Else, it's just a waste of your time. As usual, the owners of Allcoins are anonymous, we only know that the site exists since 2018 and it is located in the USA.
13 different Cryptocurrencies on Allcoins.pw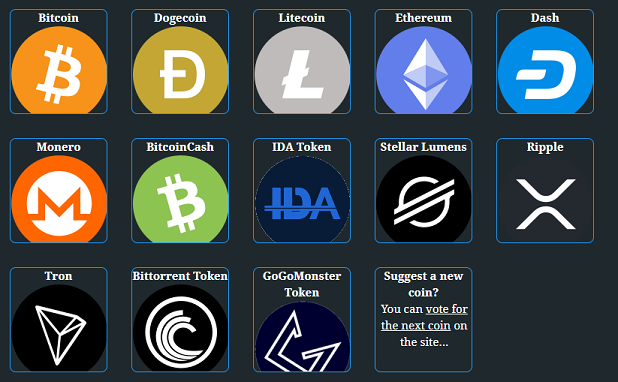 How can you earn Bitcoin at Allcoins?
Allcoins offers 2 different Faucets to claim from. The first is called "Classic Faucet" and it is exactly that: A classic Faucet. You choose a Cryptocurrency, solve a captcha and earn some Coins. The payment is pretty low and you can claim every 6 Minutes. After every claim, you can decide what to do with your Coins. You can wager them and try to double or multiply them. You can also donate them to Allcoins or add them to your Balance. There is another option called "Motivation". You need it for the Harvest game, more about it later.
The second Faucet is an Autofaucet
You get 2 claims every day and earn more, if you do some Shortlinks. If you want to start it, you only have to choose a Cryptocurrency and click on Launch. Every 6 minutes, you automatically get some Satoshis of the choosen Cryptocurrency.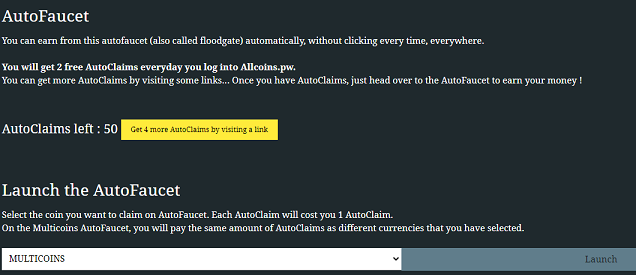 PTC Ads are another way to earn Bitcoins with and they are really high paying. The payment is really exceptional good, but sadly, there are just a few ads every day. While writing this, only 2 ads were available every day.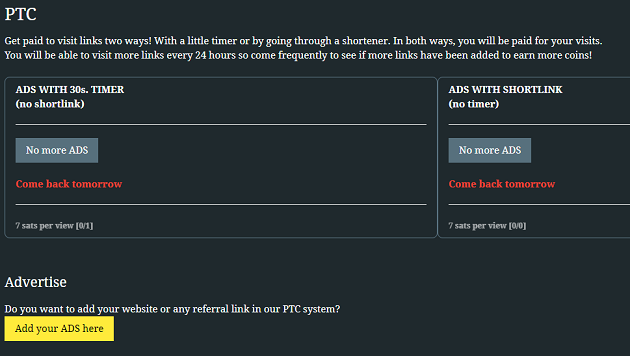 You can also try to earn some Bitcoin from an Offerwall
The Offerwalls are nothing special though, you can find the same at every other Faucet.
The Harvest Game is another way to earn Bitcoin at Allcoins. We can't tell you much about it, because to start, you need to buy a worker for 300 Satoshis. The payment for the Faucet is pretty low and there are so few PTC Ads, it takes a long time to accumulate 300 Satoshis. There is no explanation for the Harvest Game. That's really weird and as soon as we get 300 Satoshis, we will test it and update our review for Allcoins.
Youtube-Video: AllCoins Faucet System Review and Tutorial
Allcoins also offers a chat with a quiz. Every few minutes, the bot asks a question. If you answer it right, you get 1 Satoshi. That's a cool idea, but most of the time, there are not many people in the chat. But still, you will always find at least 1 person who answers the question to earn some Satoshis.
Whatever you do at Allcoins, you also earn Exp. The more Exp you earn, the higher your level. If you reach certain levels, you get a permanent bonus like higher withdrawal limits or 500 Satoshis. It's a cool idea and motivates you to use Allcoins, but sadly, there is just not much to do here.
Is there a referral commission?
Referring people to Allcoins is a good idea, because you earn 25 % of the earnings from your referral. You get it as a bonus directly from Allcoins, your referral doesn't earn less.

Our conclusion for Allcoins
Allcoins shows a lot of cool ideas, but it seems like nothing is finished. The design looks chunky, the harvest game has no explanation, there are just 2 ads every day and so on. We really hope, that the owner of Allcoins decide to invest more time in his site. Right now, there is not much to do besides the Faucet and the payment for the Faucet is just too low to make it worth your time.
If the site gets some more love from the admin, it could be really great. Currently, it's just a decent site only worth your time, if you use GogoMonster. If not, stay away, you are just wasting your time.
Payment Proof Allcoins.pw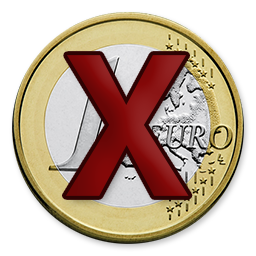 Register now at Allcoins
If you like Allcoins, you may also like: