Koiniom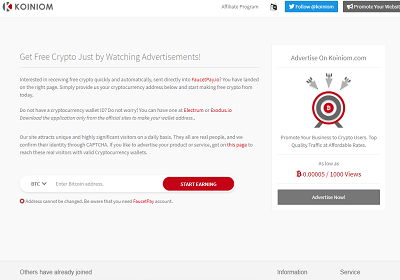 Rating:
3,50
Operator:
Unknowm
Country:

USA
Language:

Start:
2016
Total Payouts:
10
Ref-Commision:
1 Level (30%)
Minimum Age:
Years
Micro Wallet:
Faucetpay
Claim Time (in min):
4 hours
Earnings:
Good
Captcha:
Yes
Payout:
automatically
Payout-Limit:
0.000015 BTC
Currencies:

Bitcoin,

Dash,

Doge,

Ethereum
Register now at Koiniom
Pro- and Contra for Koiniom
Nice design
SSL
Some ads work like a surfbar
High referral program
You can advertise
Lost Refs in the past
Difficult for Beginners
Sometimes Login Problems
Koiniom is a PTC site, that not only offers PTC ads, it also offers some nice ads, they work like a surfbar. It's online since 2016 and the it's located in the USA. Sadly, we couldn't find any information about the owner, but that's quite common for sites, that offer you possibilities to earn Bitcoin.
Koiniom uses a completely unique script and the site looks really nice. It's not really intuitive though, but you get used to it after a few minutes. You need to click on "Start Earning" to do something. Then an overlay pops up and there you see your statistics and you can chose between "Active Window Ads", "View Advertisments" and "Offerwalls".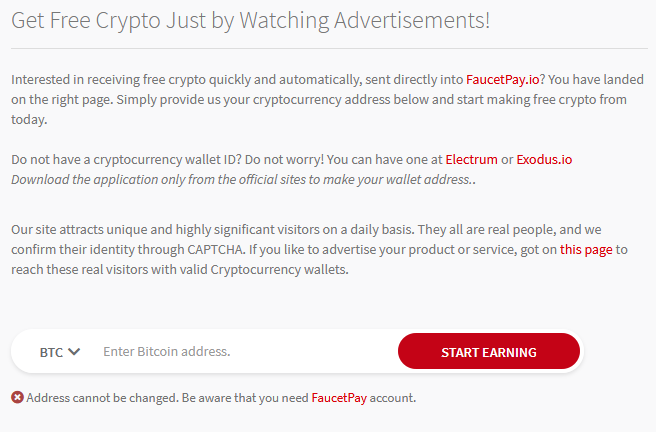 Important to know: You can change the crypto type be clicking the dropdown at BTC, you can also earn DOGE, Ethereum and Dash
You can also use Koiniom to promote your own sites. You only need to create some ads for other users to watch. Like this, you can promote your Blog or your own PTC site or a referral link to another site, it's your choice.
How can you earn Bitcoin at Koiniom?
The first and best method to earn Bitcoin at Koiniom are the "Active Window Ads". They work like a surfbar, you start them, watch them for a few seconds and then you click on next. You have to manually click on next and the window needs to stay in focus for it to work, but it's still really easy. The only negative point is, that if you change to another window for a second and then go back, the timer may stop working. That's a bug and we hope, they will fix it soon, because it's really annoying.
The second thing you can do at Koiniom is "View advertisments". It works the same like a regular PTC site, you watch an ad, solve a captcha and then you get your Satoshis. The ads don't need to stay in focus, that's why you can watch them while doing other stuff. But they are still really tedious to do, because you have to solve a captcha after every ad. You also earn way too less, because most advertisments only pay you 3 Satoshis. That's not worth your time.
Koiniom Review (Old Video, please go to 2:36 min.)
Koiniom also offers different Offerwalls
The Offerwalls are the same as everywhere else and you also face the same problems. If you encounter a problem with the tracking, you can't rely on Koiniom, you have to contact the support of the Offerwall directly. Most of the time though you are out of luck and you won't get paid, when the tracking didn't work.
Now also earn with Faucet Coins
With the beginning of the year 2021 Koiniom also offers the possibility to earn coins with a faucet. It is located in the dashboard on the far right. However, the Faucet is not a real Faucet, but rather a paid shortlink. Nevertheless, we are of course happy about the new earning opportunity and so you can earn even more than before. Every 4 hours you can click the faucet and earn, then you have to wait again.

How high is the referral commission?
You get 30 % of everything your referral earns. Your referral doesn't earn less, Koiniom pays you the commission as a bonus. But that's not all. Koiniom also pays you 15 % from everything your referral spends on advertising. Koiniom also offers 3 different levels. You also get 10 % from every referral from your referral and 5 % for the third level. That means, if you manage to get some really active referrals and they also refer a lot of people to Koiniom, you still profit from them. That's a model mainly used at german sites and we don't know of any other crypto related site that uses a referral program with more than one level. Keep in mind, that the 3 levels only works for SPENDING money on ads.
Conclusion Koiniom
Koiniom looks really modern and has a unique script, it's also secured by SSL. That shows, that the owner of Koiniom put a lot of thought in the design. Sadly, the earnings can't keep up with the good design, because the advertisments are not rewarding enough, especially because you have to solve a captcha after EVERY advertisment.
But Koiniom is still worth your time, because the active window ads are really easy to do and the payment for them is fine. Not great, but still ok. It's just really annoying that the timer bugs when you switch the window once. If the admin fixes this bug, Koiniom will be a bit better. But for now, Koiniom is a decent site, there are better sites out there but also a lot of worse sites.
Payment Proof Koiniom (old name: Kickass-Traffic)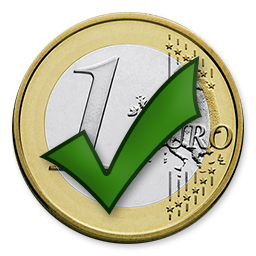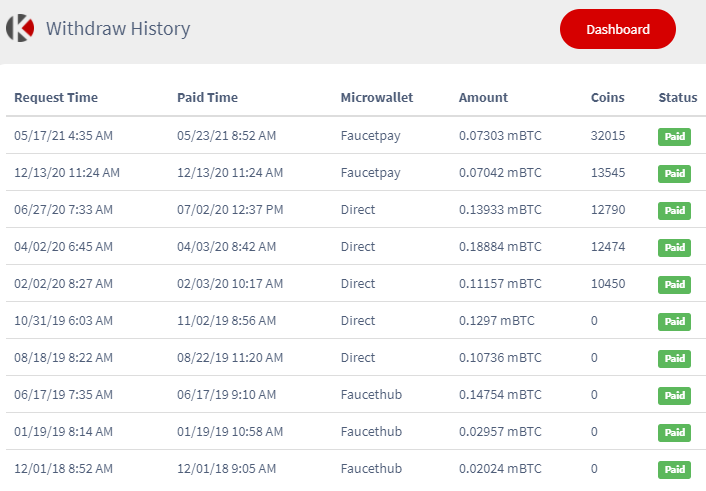 Register now at Koiniom
If you like Koiniom, you may also like: