FreeFaucet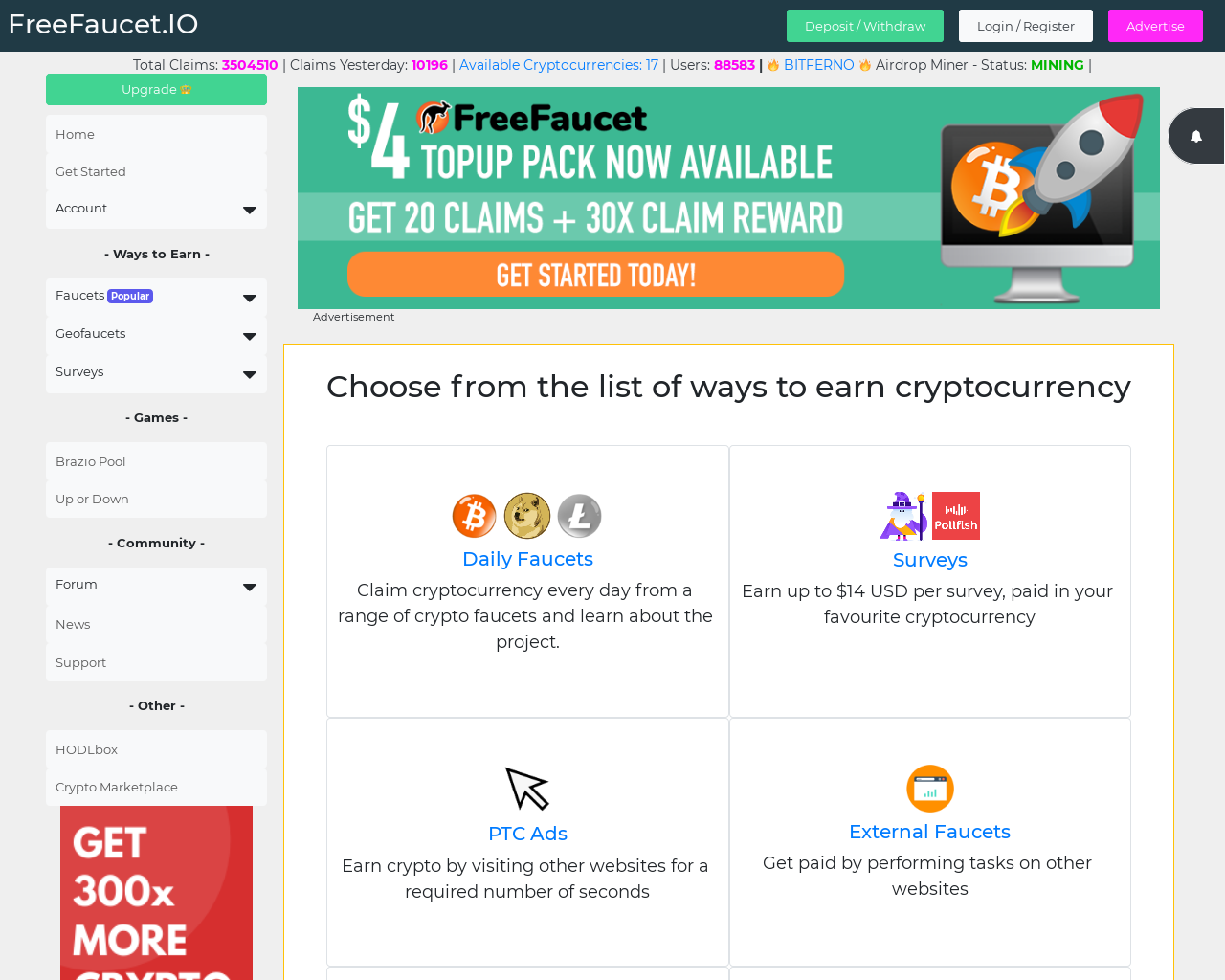 Rating:
0,50
Operator:
Unknown
Country:

Australia
Language:

Start:
2017
Ref-Commision:
no information
Minimum Age:
Years
Claim Time (in min):
24 hours
Earnings:
High
Captcha:
Yes
Payout:
automatically
Payout-Limit:
depends on the cryptocurrency
Currencies:

Bitcoin,

Bitcoin SV,

Doge,

Ethereum,

Litecoin,

Monero
Pro- and Contra for FreeFaucet
High paying faucet
A lot of cool features
Geofaucet
KYC
Too strict with anti botting for PTC ads
UPDATE April 2021:
We are sure the service is SCAM! I have been trying to withdraw my balance for many weeks now and always get the following message:
"Error: Transaction Failed - The server is down right now - probably for maintenance". Since we have not yet received a payout and our user verification has not been processed for months, we have great doubts about the seriousness of the provider. We will continue to monitor this and if nothing changes we will list Freefaucet as SCAM!
Here is the old Review
Freefaucet is a high paying faucet, online since May 2017. It's located in Melbourne, Australia. It's one of the rare faucets, where the admins behind it aren't anonymous. If you click on "Contact" you see the names and the faces of the persons behind Freefaucet. That's a really good sign and a rare thing in the world of faucets.
Freefaucet is not just a faucet, it's a plattform where you can earn a lot of different cryptocurrencies. You can also play different games, complete surveys or use their high paid PTC ads. They are also quite strict in terms of 2FA and KYC (know your customer). To use every function at Freefaucet, you have to insert your phone number and verify your identity. A lot of people won't like this. It seems a bit too strict, especially for a faucet. You won't earn hundreds of Dollars in cryptocurrencies there. It's not necessary to verify your identity, in our opinion. But you don't have to do it, if you just want to use their faucet. And even if you just claim 3 times per day from their faucet, it's worth your time.
How exactly can I earn Bitcoin at Freefaucet?
First of all, you can claim from one of their faucets. To be exact, you can claim 3 times per day. You can select a cryptocurrency you like, click on claim and you are instantly rewarded. No annoying shortlink or other nuisances.
Another really good method to earn Bitcoin at Freefaucet is to simply use their PTC ads. They are highly paid, currently you earn around 100 Satoshis for one ad. That's a lot, but before you are able to use their PTC ads, you have to prove that you are not a bot. For that, Freefaucet doesn't use a Captcha, it uses a photo of you. You have to do a pose, look in your webcam and click on I am ready.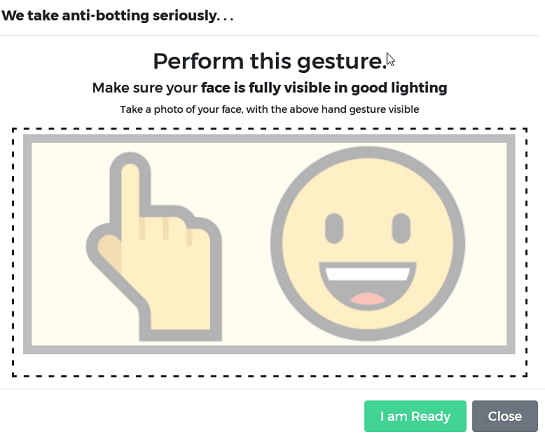 Again, that's a bit much to ask for in our opinion. But it's worth it, because 100 Satoshi per ad is a lot.
Another really creative idea is the "Geo Faucet"
With that, you can create a QR code, print it and hang it in a public place you like. Make sure you are allowed to hang the paper up. Everytime someone scans the QR code, he earns some Coins and you also earn some Coins. That's a really great idea to promote cryptocurrencies all around the globe. Of course, we support this and chose to make a GEO faucet. It's located in Austria, feel free to visit it, if you are near it, it's called Shantis Neighbourhood.
If you like to gamble, you can also try their games, "Brazio Pool" or "Up or Down". As usual, the house always wins, that's why we don't recommend to gamble. But if you are feeling lucky, feel free to try and win some Coins.
You can also answer some surveys to earn cryptocurrencies at Freefaucet, but they work through an offerwall. That's nothing new, a lot of faucets and other sites include some offerwalls, with all their advantages and disadvantages. The positive thing is, you can easily earn some more Coins. The bad thing is, if you encounter any problems with an offerwall, the admins of Freefaucet can't help you. You have to contact the support team from the provider of the offerwall and most of the time, they will answer something like "Sorry, tracking didn't work, try it again". That is really annoying.
You can level up at Freefaucet
Freefaucet also offers a leveling system. The more you use their site, the higher your level. Freefaucet airdrops some Coins every month, the higher your level, the more Coins you get. You can also invest money every month to become a premium member. With that you get more claims and more Coins for each claim.
We did the math for it and it's not worth your money. The smallest membership costs 5.95 Dollar per month and you can claim around 3 Dollar worth in Bitcoin every month. That means, you lose 3 Dollar every month. It's not worth it, you should stay a free user. We don't know, why someone would like to upgrade their account, maybe you get some hidden bonus. But if you just use their faucet, you will lose money if you upgrade your membership at Freefaucet.
Is there a referral comission at Freefaucet?
Yes, you get something, if you refer a friend to Freefaucet. Sadly, the site doesn't show you, what you get. But we weren't lazy and sent the admins from Freefaucet a mail and asked for further information.
"We don't know why, but we never got an answer."
Our conclusion for Freefaucet
Freefaucet is a high paying faucet with a lot of different methods to earn some cryptocurrencies. You can chose your prefered cryptocurrency, that's really cool. The PTC ads are also really well paid and it's great, that you know the people behind Freefaucet. The only negative point is their strict KYC policy. While we completely understand the need for more details about their users, it's a bit too much for a faucet. You only earn a few Dollars every month, it's not worth the hassle to verify your identity. The idea with memberships is also quite a letdown, because if you do the math, you lose money if you upgrade your account.
Our recommendation is to stay a free user, claim three times a day and do the PTC ads. You will earn a lot of Coins every day without any effort.
Payment Proof FreeFaucet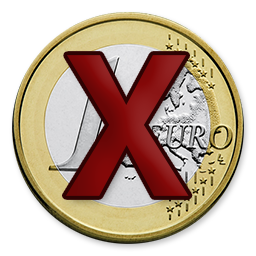 If you like FreeFaucet, you may also like: