Ethereum: Upgrade successful - $2,000 mark in focus
2023-04-13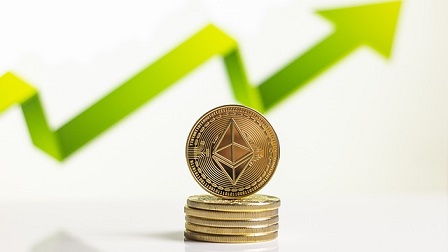 On Wednesday evening, the highly anticipated "Shanghai" upgrade took place at Ethereum. There is talk in the industry of a milestone in the conversion of the network to the more efficient "Proof-of-Stake" (PoS) process. As a result, the share price is taking aim at the psychologically important 2,000-dollar mark.
The "Shanghai" hard fork, also known as "Shapella", went through the evening before without any major problems. Since then, the first users have also been able to reverse their Ether holdings, which they make available to secure and validate transactions on the Ethereum blockchain ("staking").
As Bloomberg reports, citing data from analytics platform Coin Metrics, a total of 1.2 million Ether (ETH) worth around $2.3 billion could now be withdrawn in the coming days. According to data from Staking Rewards, a total of around $36.7 billion worth of Ether has been committed for staking purposes.
Share price on the upswing after upgrade
In a livestream event to mark the upgrade, Vitalik Buterin, co-founder of the Ethereum blockchain, also spoke out, saying, "We are at a stage where the hardest and fastest parts of the Ethereum protocol transition are essentially complete. There are still very important things to be done, but those very important things can certainly be done at a slower pace," the portal coindesk.com quotes him as saying.
Fears among some market observers that massive amounts of Ether will now be withdrawn and that the price will suffer as a result do not seem to be proving true so far, on the contrary: on Thursday morning, the price is trading around six percent higher on a 24-hour basis and is thus scratching the 2,000-dollar mark again - for the first time since August 2022.
Ethereum Shanghai Upgrade Watch Party
With this performance, Ethereum clearly stands out on Thursday.
The rest of the crypto market is also friendly, but is only up by around two percent.
Alongside Bitcoin, Ethereum is one of my favorites in the crypto sector. Risk-averse investors can also put their foot in the door here - especially since Ether still has some catch-up potential compared to Bitcoin measured by its performance in the year to date. However, increased volatility is still to be expected shortly after the upgrade.
<< The 7 advantages of bitcoin
Updates and news from Rollercoin >>