ESFaucet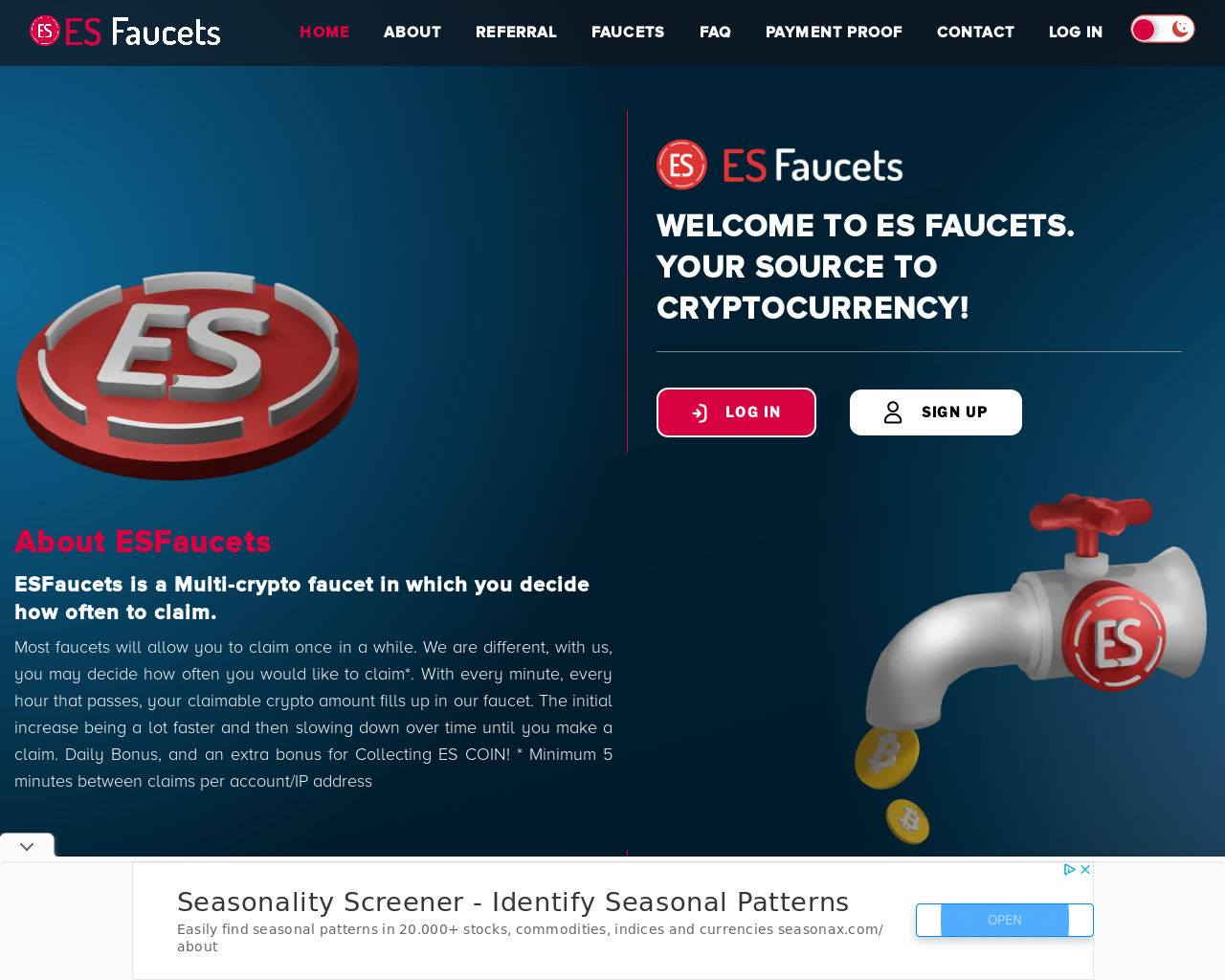 Rating:
3,00
Operator:
Euryalos Studios
Country:
Canada
Language:

Start:
2019
Total Payouts:
1
Ref-Commision:
1 level (20%)
Minimum Age:
Years
Micro Wallet:
Faucetpay
Claim Time (in min):
30 min.
Earnings:
Middle
Captcha:
Yes
Payout:
automatically
Payout-Limit:
depends on the cryptocurrency
Currencies:

Bitcoin,

Bitcoin Cash,

Dash,

Doge,

Ethereum,

Litecoin,

Ripple,

Stellar,

Tron,

Zcash
Pro- and Contra for ESFaucet
PTC Ads don't need to stay in focus
No fee for withdrawing to Coinbase
Great Youtube Channel
Own ES-Coin
A lot of Statistics
Really high fees if you don't withdraw to Coinbase
Different projects - problems for beginners
Way too many ads
Update: We have unfortunately put this service on the greylist, because after some time, in which we could not be active due to illness, we lost our account, everything recruited and our complete credit! From our point of view this is not ok, if our account is cancelled then please after at least 1-2 years of inactivity and not after 1-2 months.
The site PTCO.BTCNewz offers a Faucet and some other opportunities to earn Cryptocurrency. First of all, the design of the site is individual. Like it or not. The site is a complete mess and I still have no clue how it works exactly. If you register, you can earn Bitcoins if you watch ads. You also have a Dashboard and other stuff, but the navigation is horrible. But if you use their site es.btcnewz.com, you see another Dashboard with more methods to earn Bitcoin. It's a really weird system and I have no idea, why they designed it like this, but it's really hard to navigate and find stuff.
BUT: The owner of the faucet and all the cryptocurrency projects seems to be located in Canada, the name of the firm is: Euryalos Studios - indie/arcade game development. It was founded in 2019. At least, that's what we found while researching. And it seems that they are paying the users since the start of the faucet.
It also shows way too much ads while using it. Pop-Ups, videos and other annoying ads are shown whenever you click something. ESFaucet takes a lot of getting used to, especially for beginners it is very complex and hard to understand. Similar projects like Firefaucet or Coinpot are a bit ahead of ESFaucet.
How to earn Bitcoin at ESFaucet / PTCO.BTCNewz
First of all, you can claim a lot of different cryptocurrencies from their Faucet. Besides Bitcoin, you can also claim Ethereum, Litecoin and a lot of others. You can also claim ES-Coins. It's a Token used on the ES-Faucets and you can buy different bonus with it. It is NOT a cryptocurrency. The best way to find out the use of ES Coins is to watch a well made video. It's weird, because the video is really good and professionally made, it's the complete opposite of the site. If you want to read and not watch the video about ES Coins, you have to check their FAQ.
What is EsCoin?
Their Faucet pays low and it's also difficult to use. Because there are so many ads, it's hard to find the correct "Click me" button (you have to scroll down), because some ads also include "Click me" buttons.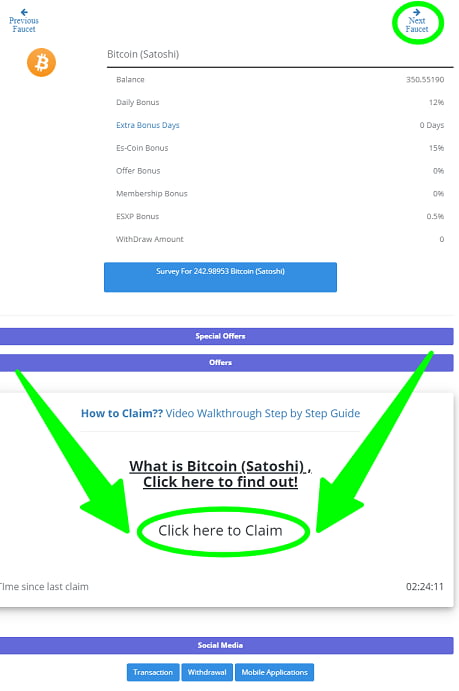 Besides the Faucet you can also earn Bitcoin if you do their Paid to Click ads. The payment for them is ok and the positive thing is, that you don't need to keep the ad in focus. That means, you can do other stuff meanwhile. The big downside though is, after every ad you have to solve an annoying captcha. That's really time consuming and makes it a hassle to do.
The withdrawal minimum is just 11000 Satoshis for Bitcoin, that's great. If you decide to send your money to Coinbase, you don't have to pay a fee. For Faucetpay, you have to pay a 10 % fee, 5 % for Express Crypto and to another Bitcoin wallet you have to pay 25000 Satoshis. That's absurd and if you decide to use PTCO.BTCNewz, you have to use Coinbase, else you lose way too much money when you withdraw.
You can buy Upgrades with ES Coins
The earnings are quite low, but you can upgrade them with ES Coins. You can buy different things in their marketplace. For example, you can disable Pop Ups and some other annoying ads for a day. To be honest, that's really dumb. You have to use their site with these extremely annoying ads to earn ES Coins to disable some of the ads for a day to earn more ES Coins and a few Bitcoin. That's just a stupid concept. Of course, Faucets need ads to survive, but if you can't use the site properly, because you always get Pop Ups or Video Overlays, it's just not fun to use.
You can also buy other Upgrades, but they aren't really worth your time. If you use ESFaucet, just claim Bitcoins and other Cryptos.
They also have some other sites and no site of them is really great. If you check their Facebook page, you will see that the company behind ESFaucet / PTCO-BTCNewz is called Euryalos Studios and they claim that they are a small indie game and software development company. The only great thing is their Youtube channel. Some of their videos are really well made and the voices used are really pleasant. Some other videos though are really hard to watch, because the background music is nearly as loud as the voice. We have no idea, why the quality of their videos is so different, but if you want to get some information about Bitcoin, feel free to check their Youtube channel.
Change your membership status
On ESFaucet you also have the possibility to change your membership status for an extra charge. There are 7 levels in total, from Free to Gold to Onyx. For example, each level offers a higher bonus when "claiming". We don't recommend it, it's only worth it if you have huge accounts with many refs, you don't need it on a small scale. Above all, there is always the danger that a website is no longer accessible tomorrow and then you would have lost everything. Therefore, be careful with paid memberships, we generally advise against it.
More Earnings...
On ESFaucet there are several ways to earn ES-Coins as well as other cryptocurrencies.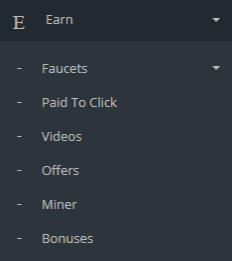 Is there a referral program?
Of course, ESFaucet also offers something, if you refer people to them. You get 20 % commission of every claim from your referral. Your referral doesn't earn less, you get it as a bonus directly from ESFaucet. They also offer some banner ads if you want to advertise them on your blog. Some of these ads are really well made and look great.
You can also advertise
As with most Faucet scripts, ES Faucets allow you to advertise yourself. Either you pay something in or you use your accumulated credit for it. At ESFaucet you can book Impression Ads, Paid To Clicks and Youtube Videos. But beware you should read the rules in advance, then some content may not be advertised, which we also find quite good.
Our Conclusion for ESFaucet / PTCO.BTCNewz
ESFaucet is not a waste of time. The earnings are low to middle, the site is a bit too much plastered with ads and it's not easy to use it. It feels not like fun to claim from their Faucet and for that, the earnings are way too low. But everything is running, they paid out the users over the last two years (we saw a lot of payment proofs on different web portals) So we think it make sense to use ESFaucet / PTCO.BTCNewz.
The owners seem to be game and software developers and I can't say, if they are good at their job or not, but it's clear, that they are not good at webdesign. Their Youtube Channel shows, that they can create some great videos and honestly, they should keep making Videos. Currently, their Crypto Faucet just looks like it was created without any effort on usability.
Great Marketing Video from ESFaucet / BTCNewz.com | Earn Bitcoin Online (2019 Working)
If you like ESFaucet, you may also like:
Payment Proof ESFaucet