Cryptowin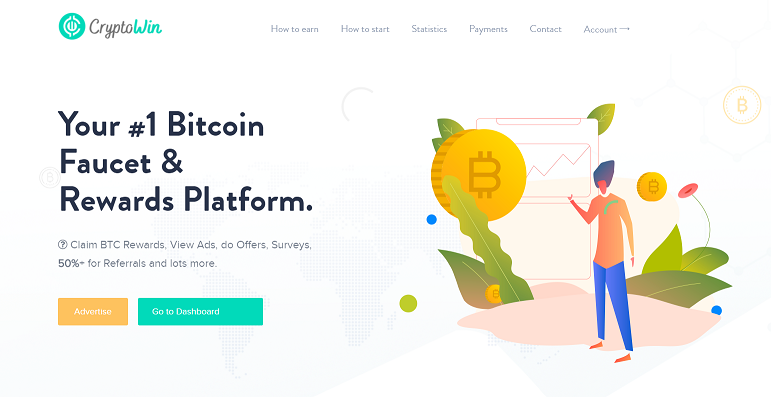 Rating:
3,00
Operator:
Unknown
Country:

USA
Language:

Start:
2018
Total Payouts:
1
Ref-Commision:
50 %
Minimum Age:
Years
Micro Wallet:
Faucetpay
Claim Time (in min):
15 min.
Earnings:
Middle
Captcha:
Yes
Payout:
automatically
Payout-Limit:
0,000002
Currency:

Bitcoin
Register now at Cryptowin
Pro- and Contra for Cryptowin
PTC Ads don't need to stay in focus
Low minimum amount to withdraw
Instant payment to FaucetPay
No information about the owner
Cryptowin is a Faucet, that offers a view different ways to earn Bitcoin. You can also invest your Bitcoin there to get interest. The domain cryptowin.io is registered since 2018 in California, USA. The site is really well made and works fine. There aren't too many ads and we encountered no annoying popups or overlay ads. The minimum amount to withdraw is only 200 Satoshis, that means, you only need a few days to earn enough to withdraw your Bitcoins to your wallet or to FaucetPay.
As usual, there are no information about the people behind Cryptowin. Combine that with their shady investment plan and you get a big warning sign. Cryptowin is a potential scam, although currently, it's paying and there is no indication yet, that it's becoming a scam anytime soon.
How can you earn Bitcoin at Cryptowin?
There are some legitimate ways to earn Bitcoin and one rather shady one at Cryptowin. Let us start with the legitimate ways. First, there is a Faucet. You can claim from it every 15 minutes and currently, you receive between 1 and 5 Satoshi randomly. There is no shortlink and no annoying captcha to claim, only a simple captcha. Just solve it and you get rewarded instantly. As a bonus, you also get 1 ticket for the Lottery every time you claim.

Lottery Tickets
A ticket for the lottery costs 1 Satoshi, if you want to buy them separately. On average, the first prize is quite high, you get around 300000 Satoshis. You have to be extremely lucky to win the lottery. Also, we can't say for sure if the lottery is legitimate or not. Cryptowin offers a shady thing, as we explain later. We don't trust the lottery and we recommend, that you don't buy tickets for it. If you want to gamble, use other sites, where it's sure that you won't get scammed.
Cryptowin also offers some great PTC Ads. The payment is not great, but they don't need to stay in focus. Only click on an ad, click on Start and wait some seconds. You can do other stuff meanwhile, as soon as the timer is down to 0, you get your Bitcoins. No need for a captcha or other annoying stuff. Like this, the PTC Ads are really easy to do. The reward could be a bit higher, but since they are so easy to do, they are still worth your time. Sometimes it happens, that the ad is available to watch twice. But you don't get paid twice and you wasted some time. That's annoying and we hope, it gets fixed soon. It's really bad for motivation, if you watch a PTC Ad and get nothing in return except an error, because you already watched it before.
Earning with Offerwalls
Offerwalls are another way to earn Bitcoin, but they aren't anything special. Most Faucets offer Offerwalls, the only unique thing at Cryptowin is, that you need to earn a few Satoshis first, before you can access the Offerwalls. We don't know why Cryptowin blocked the access for new Users. If you decide to use the Offerwalls, keep in mind, that the are operated by another company. If you encounter problems with a task, you need to communicate with the Offerwall and not with Cryptowin. The admin of Cryptowin can't help you with problems at the Offerwalls.
Sadly, there is also a really sketchy thing at Cryptowin. If you click on "Earn Interest", you find an investment possibility. You can buy Shares of Cryptowin. One share costs 1000 Satoshis and you receive 0,7 % interest daily. After 180 days, you get 1260 Satoshis. That's 26 % interest for half a year. That sounds great, but it's not sustainable. This system only works, as long as new people invest their money. It's a pyramide scheme and you should NOT invest in it. It could be possible that you get your money back, but they will turn to scam in the future. It's not possible to achieve such high interest rates constantly without going bankrupt.
That makes Cryptowin quite sketchy. They are currently paying, but you should be really careful. As soon as you are able to, withdraw your money. We are 100 % sure, that Cryptowin will scam some people in the future. Of course, we also got paid. It took us only 3 days to accumulate enough Satoshis to withdraw our money. The payment was sent instantly to FaucetPay.
Massive CryptoWin Update!
How high is the referral commission?
Cryptowin really excels at the commission for referrals. You get 50 % from each Faucet claim, 2 % of every share your referral buys, 10 % for every PTC Ad and 10 % for every task from an Offerwall. That's really great and it's a good idea to refer your friends to Cryptowin. But please explain to them, why they shouldn't buy shares and invest in Cryptowin. If you recommend Cryptowin to your friends and then they get scammed, they will be pretty angry at you. Understandable so. By the way, you get the commission directly from Cryptowin. Your referral doesn't earn less, it's a bonus for you.
Our conclusion for Cryptowin
Cryptowin is a nice Faucet with great PTC Ads. It's really easy to use and earning Bitcoin at Cryptowin is a fun experience. Sadly, the investment possibility is really sketchy and you shouldn't buy Shares at Cryptowin. We are sure, that some day in the future, Cryptowin will scam people, but right now, it's safe to use. Withdraw your money as soon as you are able to and you are fine. You can easily withdraw to FaucetPay every few days, so feel free to do so. Don't let your Bitcoins accumulate at Cryptowin. If you manage to refer some friends to it, you earn a lot more. 50 % from every claim from the Faucet is really much and you can easily double or triple you earnings at Cryptowin with a few motivated referrals.
Payment Proof Cryptowin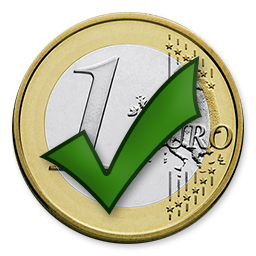 Register now at Cryptowin
If you like Cryptowin, you may also like: