Bucksify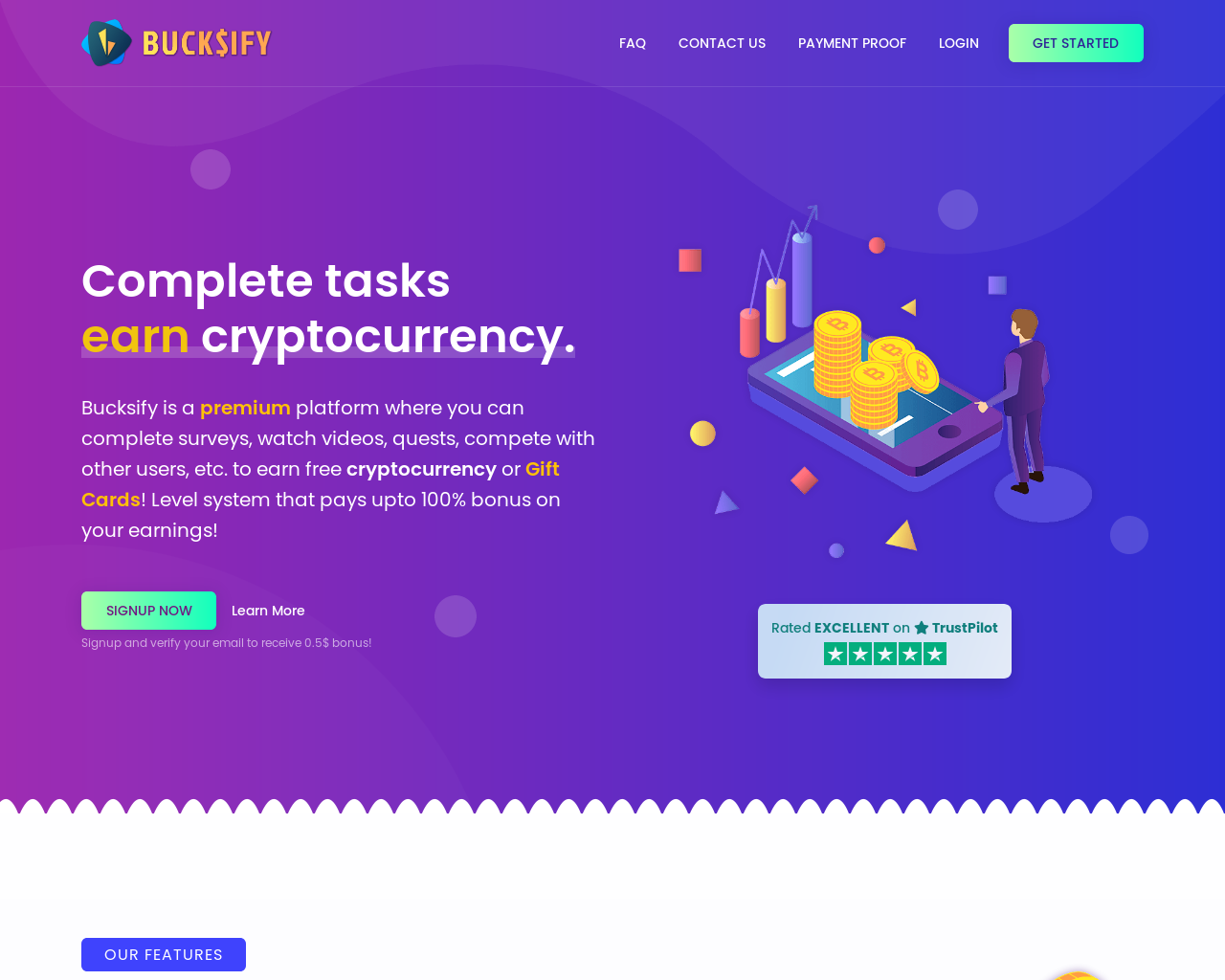 Rating:
2,50
Operator:
Unknown
Country:

Iceland
Language:

Start:
2019
Ref-Commision:
1 Level (10%)
Minimum Age:
Years
Claim Time (in min):
60 min.
Earnings:
Low
Captcha:
Yes
Payout:
automatically
Payout-Limit:
5 USD
Currencies:

Bitcoin,

Dash,

Doge,

Ethereum,

Litecoin,

Tron,

Zcash
Register now at Bucksify
Pro- and Contra for Bucksify
Looks gorgeous
Not many ads
Offerwalls and Quests
Easy to use
High minimum amount to withdrawal
Owner stays anonymous
At Bucksify, you can do different tasks to earn money. It also offers a Faucet, you can claim from it every 60 minutes. The first thing you will notice is, how beautiful Bucksify looks. The design is really well done and it works flawlessly. There are not many ads, no pop ups, nothing that annoys you. Bucksify was done by someone who understands webdesign, that's rare for Faucets. sadly.
It's registered since 2019 and it is located in Iceland. We can't tell you anything about the owners of Bucksify, because they stay anonymous. That's a common thing for Faucets, but it's bad practice.
How can you earn Bitcoin at Bucksify?
Bucksify offers you a Faucet, you can claim once every 60 minutes. You earn between 10 and 15 BXT. BXT is the currency used at Bucksify and 10000 BXT are worth 1 Dollar. The earnings for the Faucet are really bad, you have to claim around 10 times to earn 0,01 Dollar.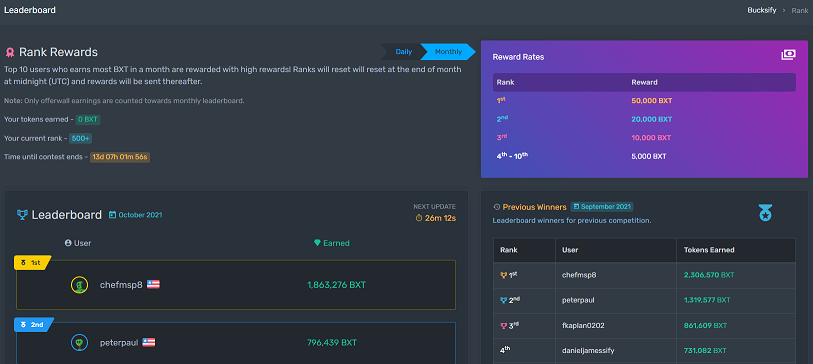 If you want to withdraw your BXT, you can buy gift cards or choose a cryptocurrency of your choice. The amount you need to withdraw depends on the currency you choose, starting at 5 Dollar. That's really much and it may take some time to earn enough to withdraw.

The only other option to earn Bitcoin at Bucksify are Offerwalls. There are plenty of Offerwalls, we don't know any other site with that many. Currently, there are 22 different Offerwalls to choose from. The Offerwalls are mostly the common ones, but there are some lesser known too.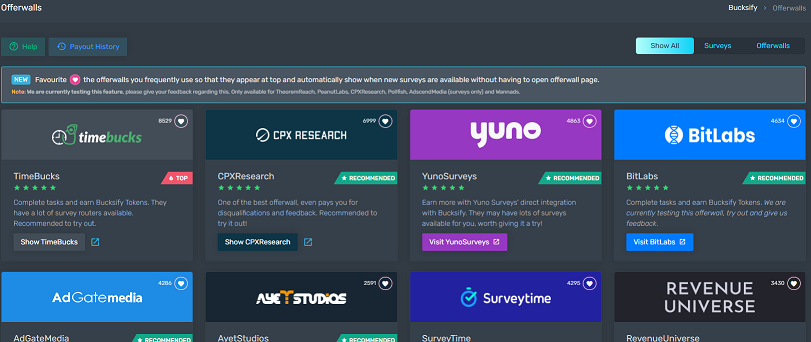 It doesn't matter, if you want to fill out some surveys, download an app and use it or do some other tasks, you will find something you want to do. But keep in mind, they are still only Offerwalls. If you encounter any problems, Bucksify can't help you. You have to directly contact the Offerwalls. Most of the time, they work great, but especially with some longer tasks like downloading a game for your mobile phone, they can make some problems. That is really annoying, especially if you played the game for some days and invested a lot of time, because the promised reward would be really high. It sucks, if the tracking didn't work and you get nothing for your effort.
That's also the reason, why we can't rate Bucksify higher. There is just nothing to do, if you don't like Offerwalls. The Faucet alone is paying way too less to make Bucksify worth your time.
BUCKSIFY Website Review & Tutorial!!
Is there a referral commission at Bucksify?
Bucksify pays you 10 % of everything your referral earns. That's not much, but Offerwalls normally pay a lot. Like that, 10 % can bring you a lot of commission, if you refer some people to Bucksify. Your friend doesn't earn less. Bucksify pays you the commission directly as a bonus.
Earn bonus with Quests
You will get extra earnings by reaching some glory steps (quests). Here is a screenshot: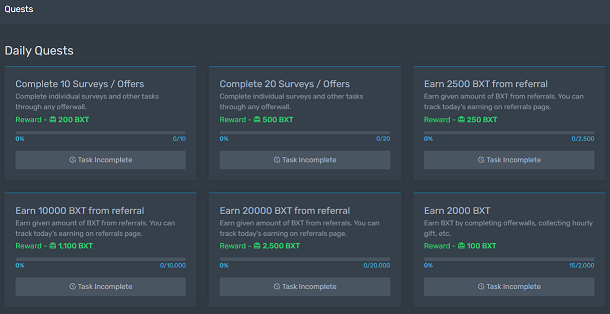 Our conclusion for Bucksify
Bucksify could be really, really great. It could even be on the same stage as Cointiply or Faucetpay. It looks absolutely gorgeous, works great and is easy to use. Sadly, it offers just not many things to earn Bitcoin with. The focus on Offerwalls may be great for people who really love Offerwalls, but for everybody else, it's just not worth your time. We really hope that Bucksify will add some more things to do for us, to make it really great. Until then, it's just average.
Payment Proof Bucksify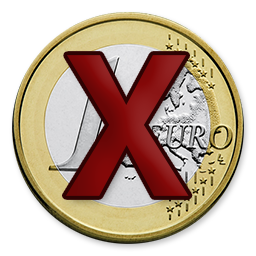 Register now at Bucksify
If you like Bucksify, you may also like: