Thecryptofaucet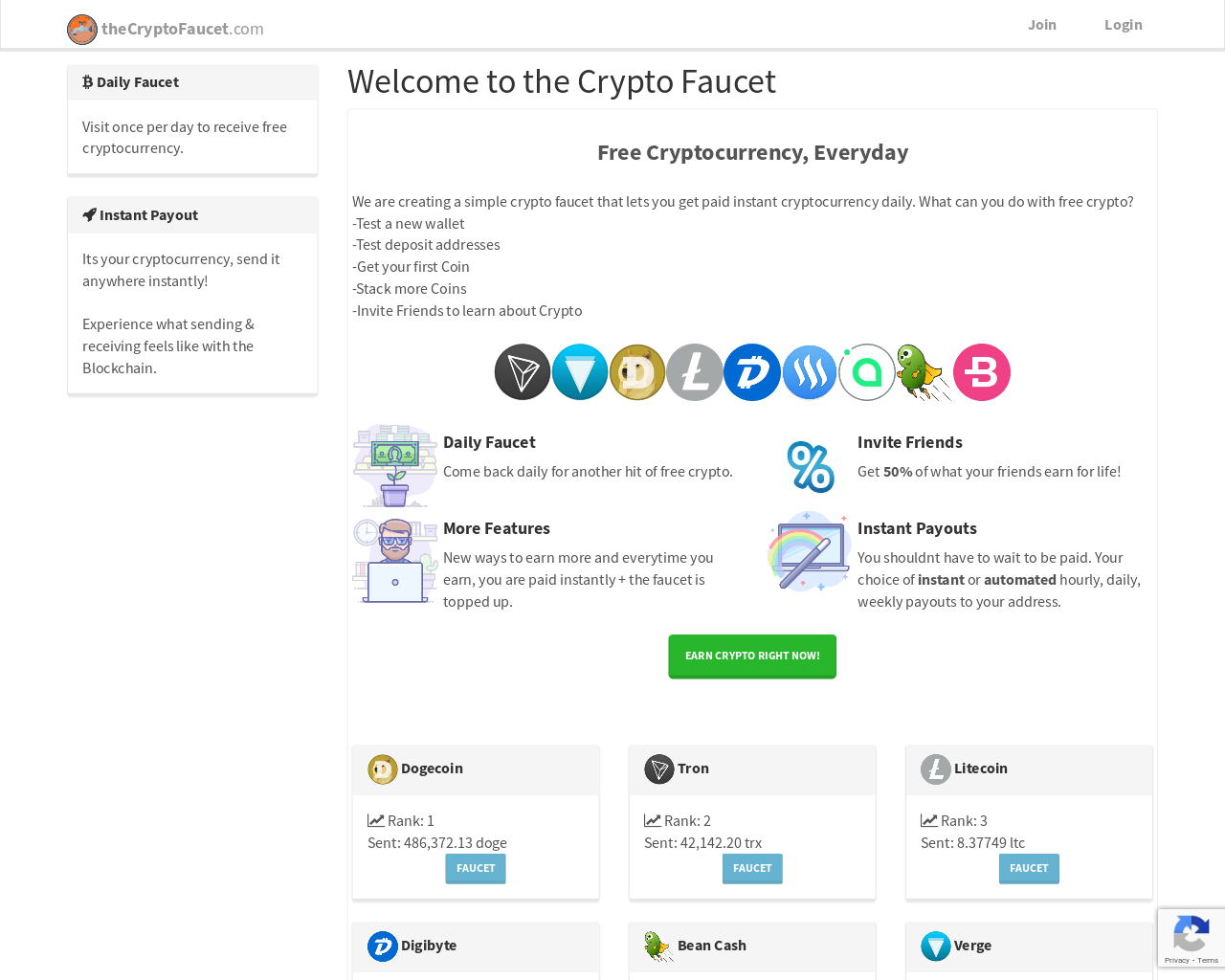 Rating:
0,50
Operator:
Unbekannt
Country:

USA
Start:
2019
Ref-Commision:
50 %
Minimum Age:
Years
Claim Time (in min):
Once per day
Earnings:
High
Captcha:
No
Payout:
automatically
Pro- and Contra for Thecryptofaucet
Awesome payment
Lots of different cryptocurrencies
Educates you on cryptocurrencies
Nice design
Only 1 claim per day
Not many tasks for "Type to earn"
IMPORTANT UPDATE
Update from 31.08.2020
After this update, you will find our old review of TheCryptoFaucet. We decided to let it stay online like it was, because we don't wanna mislead you by editing an older text.
We are very sorry, but we completely misjudged TheCryptoFaucet. We really liked the mission of TheCryptoFaucet and got blinded by it. We didn't check it thorough enough and missed, that it didn't pay some of its users. We are deeply sorry for our mistake. Currently, we are pretty sure that TheCryptoFaucet stopped paying Tron and Litecoin, but it seems like its still paying some other cryptocurrencies like Dogecoin. Nevertheless, that is a really bad sign and users that decided to claim Tron or Litecoin are scammed by TheCryptoFaucet. That's why we decided to put it on our Blacklist. Again, we are sorry for that mistake and please stop using TheCryptoFaucet. It is a scam, although we still hope, that it will refill all it's cryptocurrencies and start to pay the users.
End of Update
What's TheCryptoFaucet?
TheCryptoFaucet is, as the name implies, a Faucet. It offers a vast variety of different cryptocurrencies. It offers
Dogecoin
Tron
Litecoin
Digibyte
Bean Cash
Verge
Steem
Siacoin
and Bytecoin. Most of these are pretty unknown, but that's on purpose. TheCryptoFaucet has a mission. It wants to educate you about different cryptocurrencies and TheCryptoFaucets gives you a lot of information about the cryptocurrency you want to claim. You can only claim once per day but the payment is really good. It's currently the best paying Faucet we know of. Of course, the earnings per day are not that high, because you can only claim once every day, but timewise it's awesome. The site is also really well designed and easy to navigate. It looks pretty simple, but still offers a lot of information about a lot of different topics regarding cryptocurrencies.
How can I earn cryptocurrencies at TheCryptoFaucet?
You have two different ways to earn a cryptocurrency of your choice at ThecryptoFaucet. You can claim once per day from their Faucet. You roll a dice and the higher your number is, the more you get.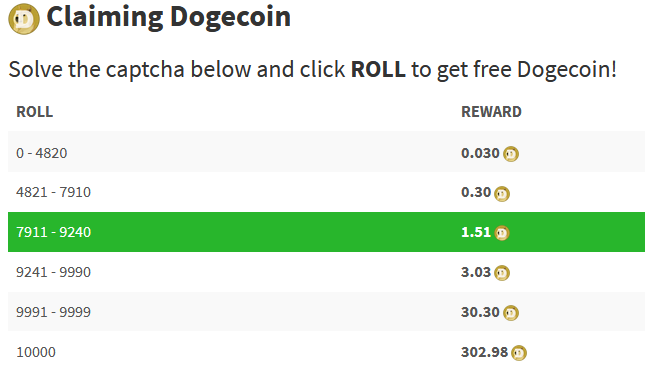 If you already claimed for a day and have to wait, you could also try "Type to earn". That's a unique thing we haven't seen somewhere else. You have to type different things from images into a field. For example you see an image with a telephone number and then you have to write the telephone number in the specified field. You get paid for every task you do. Before you start, you have to do a short tutorial. They tell you everything you need to know and it will take about 1 minute, then you can start to earn by typing. Sadly, most of the time there are no task available, but the idea is still really cool.
The minimum withdrawal amount depends on the currency but it's really low. If you claim daily for 2 weeks, you can easily withdraw your money. But you have to pay a small fee if withdraw as soon as you are able to. If you wait a bit longer and accumulate enough Satoshis, you don't have to pay a fee. It's pretty reasonable until you earned enough to withdraw without a fee, it won't take long anyway.
There are no other methods to earn cryptocurrencies at TheCryptoFaucet and we doubt that they will add more. They main purpose of this Faucet is to educate people, earning money is only secondary.

Do they have a referral program?
TheCryptoFaucet offers you 50 % from every claim your referral makes. He doesn't earn any less, you just get it as a bonus directly from TheCryptoFaucet. 50 % is quite high and because the Faucet pays so well, you easily get a lot of Satoshis from your referrals. That's why it's a good idea to refer a lot of people to TheCryptoFaucet.
Our conclusion for TheCryptoFaucet
When Bitcoin was first created, there were some Faucets that paid 5 Bitcoins for every claim. Today, that's completely unbelievable, but years ago Bitcoin was worth nearly nothing. Faucets were used to educate other people about Bitcoin and to spread the idea of cryptocurrencies. Today, most owners of Faucets want to earn money. At TheCryptoFaucet, you don't think that the admins want to earn money, you really believe them that the want to educate their users. The site has nearly no ads and pays really well. The referral commission is also great. Overall, this is one of the best available Faucets and you don't need a lot of time for it, because you can only claim once per day. But you should really claim every day, because the earning is THAT good. It's also cool to read some nice information about the cryptocurrency you claim. We can wholeheartedly recommend TheCryptoFaucet, it's a great project and everybody should use it and spread the information about cryptocurrencies.