Goldenclix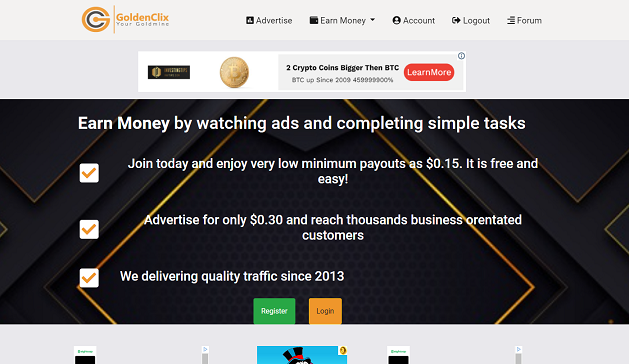 Rating:
2,50
Operator:
Unknown
Country:

Croatia
Language:

Start:
2013
Total Payouts:
1
Ref-Commision:
1 Level (10%)
Minimum Age:
Years
Micro Wallet:
Faucetpay
Earnings:
Low
Captcha:
Yes
Payout:
automatically
Currency:

Bitcoin
Register now at Goldenclix
Pro- and Contra for Goldenclix
Ads don't need to stay in focus
Task list motivates you to earn more money
Low payment
Owner stays anonymous
What is Goldenclix? Goldenclix Review - Scam or Legit?
Goldenclix is a classic PTC site. It offers you a variety of ads to click and some other stuff to do. Sadly, the first impression is pretty negative, because the whole site is plastered with ads. There are so many ads, you will have some difficulties navigating through them. The good thing is that the areas of the site where you click your PTC ads don't show that many ads, like that, you can at least earn some money without being annoyed too much.
The design itself is pretty simple, but it works. Goldenclix.com is registered since 2013 in Croatia. We don't know if it's really online that long, but Goldenclix offers a forum and the oldest posts go back to 2014. The forum is pretty dead though and people only rarely post new things. There are a lot of payment proofs online and we also got paid already. We can say for sure, that Goldenclix is no scam. Even if the owner stays anonymous and we don't know who is responsible for Goldenclix.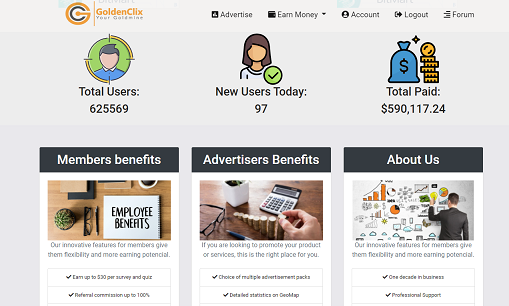 The Golden Grid is another way to earn different rewards. It's a grid, where you can select a box of your choice, watch an ad for a few seconds and then you get a random reward. Most of the time, you earn 0,0001 Dollar and 0,25 Credits. With the credits, you can advertise your own site at Goldenclix. Every 5 clicks, you earn a little extra price randomly. And yet again, the payment is not great, but they are really easy to do. You don't even need to solve a captcha, just click, wait and you are done. You don't need to keep the tab in focus, so do something fun meanwhile.
Goldenclix also offers something called Ad Prizes. There you can surf different ads and for every ad you earn a random number. The higher your number, the more you can earn. The range is 0 to 9999 and with 9999, you win 5 Dollars. Most of the time you will only win 0,0001 Dollar. Not great, but they are also easy to do. Watch them while doing something else and then solve a captcha and you are done. Easy money.

How can you earn Bitcoin at Goldenclix?
At Goldenclix, you can only earn Dollar. As soon as you withdraw your money, you can decide how you want to get paid. There are different options available like FaucetPay, Payeer and some more. The only cryptocurrency available is Bitcoin.
The main thing to do at Goldenclix are the PTC Ads. They usually offer around 30 ads every day and they are really easy to do. Click on them, wait for a few seconds, solve a really easy captcha and you are done. The PTC Ads don't need to stay in focus, that means you can do other stuff meanwhile like watching a series, play a game or use a second PTC site. The downside is, that the payment is really low. The highest paying PTC Ads currently pay 0,0015 Dollar. For example, Cointiply pays you up to 0,0042 Dollar per PTC Ad.
The second thing you can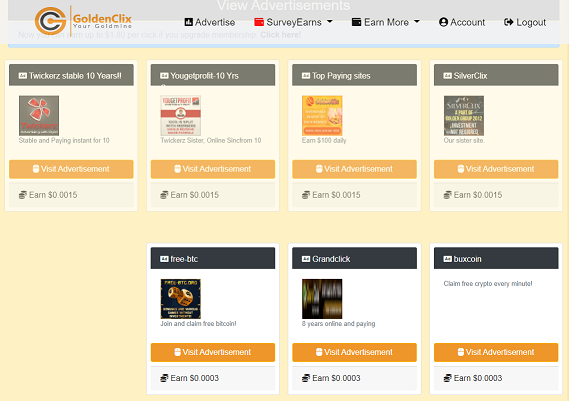 do are the Shortlink Ads, called Bonus Ads at Goldenclix. You have to solve a Shortlink and then you get paid. You earn 0,001 Dollar per Shortlink. Again, that's really not much and Shortlinks take quite a while to do. We don't recommend them, because they are not really worth your time.
GoldenClix Review - How Much Can You Make From A PTC Site Like GoldenClix?
The Cash Game at Goldenclix is like a Faucet
Every 300 seconds, you can watch an ad and then you get a random amount of Dollar to your account. Most of the time you get 0,0002 Dollar, but you can win up to 5 Dollar. If you are really unlucky, you can also earn nothing. That sucks a bit, but it happens very rarely.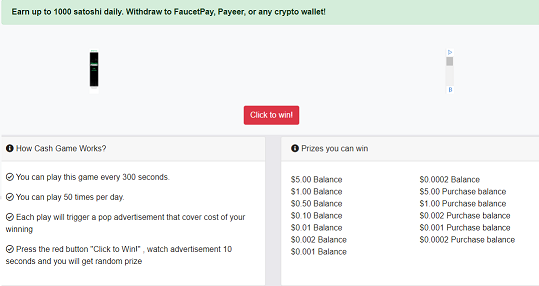 There is also a game to gamble with your money called Coin Flip, but we don't recommend it. You can't even see the exact odds and when you gamble, you always lose in the long run.
The really cool thing at Goldenclix is their task list. Whenever you watch a PTC Ad, a Bonusad, a Goldengrid Ad or do their Cashgame, you get a point at the task list. If you watch at least 50 % of the ads, you get a bonus of 5 %. If you do 100 % of a category, you earn a bonus of 10 %. The earnings still suck, even with the bonus from the task list. But it still keeps you motivated to complete all ads to get the bonus. It's a great system to keep the users engaged and it's fun to try to do all the tasks. The tasks reset every day.
Besides the ads, there are also a lot of Offerwalls available at Goldenclix. They are nothing special, mostly the same as everywhere else. If you like Offerwalls, give them a try, but keep in mind, that if you encounter any problems with an Offerwall, you have to contact the support of the Offerwall. Goldenclix can't help you with problems regarding Offerwalls.
Is there a referral commission at Goldenclix?
Yes, you get some % of everything your referral earns, but how much exactly is quite complicated and not easy to tell. Goldenclix offers different memberships. You have to pay for them and if you upgrade your account, you will earn more. You also get more commission from your referrals. We don't encourage you to upgrade your account, it's not worth the money. If you upgrade, you have to be really active every day to break even. Only if you are doing every single ad every day for a few months, you will earn more if you upgrade. And even if you do so, if Goldenclix decides to scam you, you can't do anything against it. That's why we don't recommend an upgrade for your account. Without the upgrade, you get around 10 % commission from everything your referral makes. You get it directly as a bonus, there is no downside for your friend, if he uses your referral link.

Our conclusion for Goldenclix
Goldenclix is online for a few years now and that's usually a good sign. It's easy to earn money at Goldenclix and with the task list, you get motivated to earn even more. The only big downside is the amount you get paid. It's too low to recommend it wholeheartedly. But if you are clicking a lot every day and finish the great sites everyday and want to do some more, try Goldenclix. It's a solid site, it's fun to use and it won't scam you.
Payment Proof Goldenclix: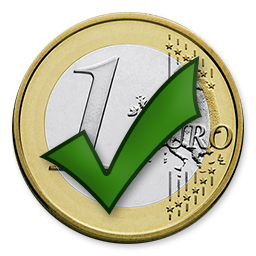 Register now at Goldenclix
If you like Goldenclix, you may also like: