Bitcoinsforme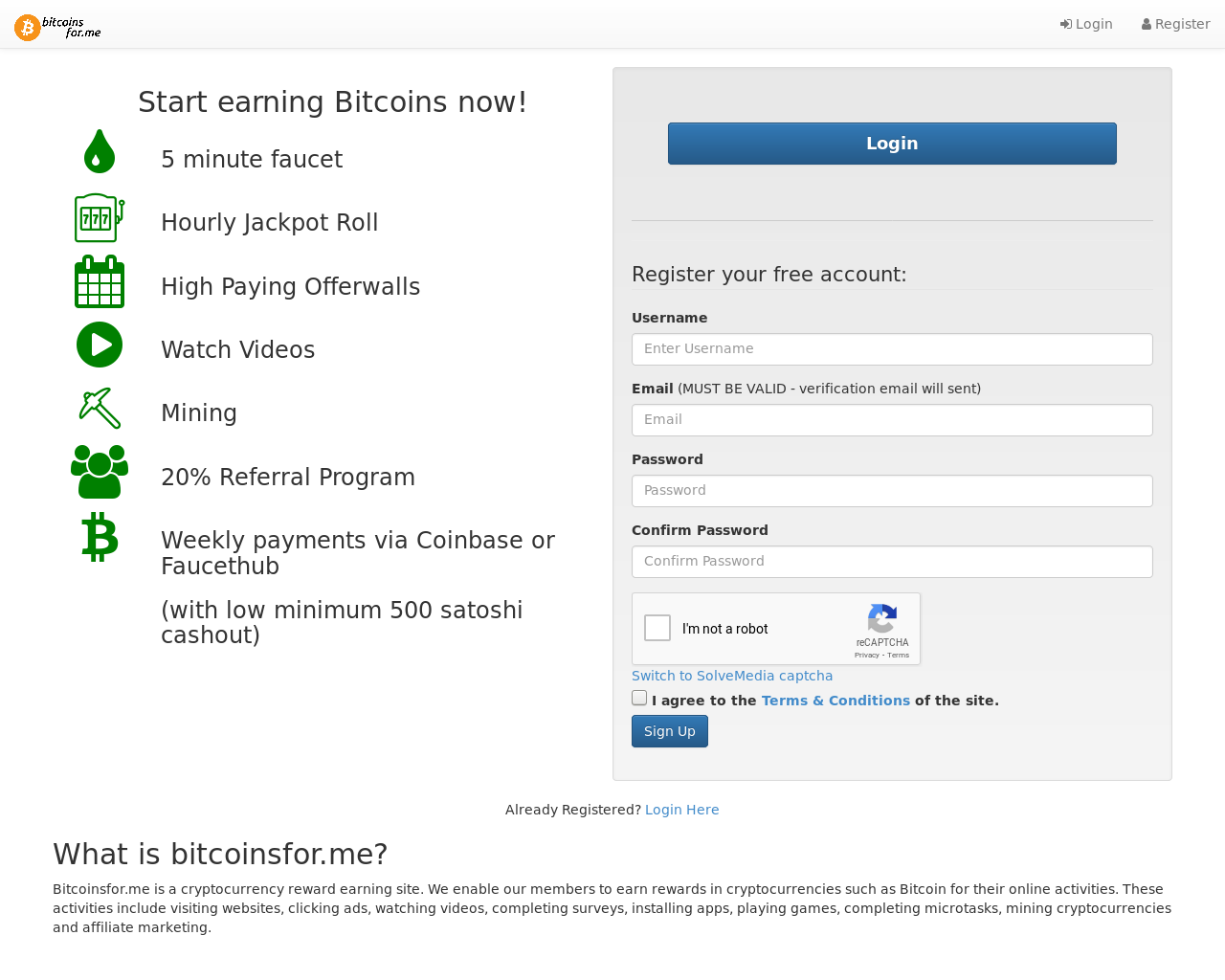 Rating:
1,00
Operator:
Unknown
Country:

United Kingdom
Language:

Start:
2017
Total Payouts:
4
Ref-Commision:
5 % to 20 %
Claim Time (in min):
5 min
Earnings:
Low
Captcha:
Yes
Payout:
manually
Payout-Limit:
0,0002 or 0,000005
Currency:

Bitcoin
Register now at Bitcoinsforme
Pro- and Contra for Bitcoinsforme
Lot of different methods to earn Bitcoin
SSL
Automatic payment to your Coinbase wallet
Bad design
Low payment
Way too many annoying advertisments
Login Problems
What's BitcoinsforMe?
BitcoinsforMe offers a Faucet and a vast variety of other methods to earn different cryptocurrencies. For most things, you earn BFMT, a Token only used by BitcoinsforMe. 100000 BFMT are worth 1 Dollar and they get automatically changed to Bitcoin every week and if you use Coinbase, you can use your adress and if you have over 500 Satoshis, they pay it automatically to your wallet at Coinbase. That's a great idea and makes it pretty safe to use, because you don't have to worry about sending your money manually to your wallet. There are also no fees to pay if you use Coinbase. If you use another wallet, the minimum amount to withdraw is 20000 Satoshis and you have to pay a fee.
The design of BitcoinsforMe is really weird. Everything looks out of place and it's really hard to navigate. It definitely was designed by someone without a clue, because it's just a bad experience to use BitcoinsforMe. That's sad, because it also offers SSL, a rare thing for a Faucet.
How can I earn Bitcoins at BitcoinsforMe?
The main method to earn Bitcoin here is their Faucet. You can claim every 5 minutes, but before you are able to claim, you have to "Check in". After you login and try to claim, you have to do a shortlink to "Check in". That's really annoying, especially because their Faucet pays really, really bad. You get 24 BFMT and some bonus, depending on your activity. But even with all the bonus, you will most likely get around 5 Satoshis while Bitcoin is worth around 10000 Dollar. That's way lower than a lot of other Faucets and combining the low payment with the really bad interface and the annoying ads makes BitcoinsforMe a site we cannot recommend. The ads are really annoying by the way, a lot of overlays you have to close and other annoying ads. We fully understand that you have to make money as an owner of a Faucet, but this types of advertisments are just annoying and make the user experience really bad.
But if you still decide to use BitcoinsforMe, you can use a lot of different offerwalls or mine directly in your browser. You shouldn't use their mining, the cost of power will probably be higher than the amount you will earn. The offerwalls are nothing special, they are the same like everywhere with 2 exceptions. You can watch videos or browse some sites with some offerwalls. That works pretty fine, but the payment is way too low to make it worth your time. Better use that time to claim from some good Faucets, you earn more Bitcoin that way.

How high is the referral commisssion?
The commission varies between 5 % and 20 %, depending on the things your referral uses. You get 20 % for every claim from the Faucet, 10 % from everything your referral earns from an offerwall and 5 % from his mining rewards. Of course, you get that as a bonus, your referral doesn't earn anything less.
Our conclusion for BitcoinsforMe
Currently, we cannot recommend BitcoinsforMe to anyone, because the payment is just too bad. It's not worth your time to use the site, because there are better sites out there. Also, the user experience is just bad, you will waste a lot of time to navigate through the site to find what you are looking for.
The owner is also completely anonymous, but that's a normal thing for Faucets. BitcoinsforMe offers some nice ideas like the automatic payment to your Coinbase wallet, but if the most important thing is bad, we just can't recommend it. If they reduce the amount of annoying ads and make the payments for the activities way higher, it could be a pretty good Faucet. But currently, it's just bad and nobody should waste his time using it. Better use some great Faucets like graBTC or the Moon Faucets (HIER LINKS EINFÜGEN), there you earn way more and it's more fun to use. We hope, that BitcoinsforMe will fix it's flaws and then we can finally recommend it to everyone. But right now you should stay away.
Payment Proof Bitcoinsfor.me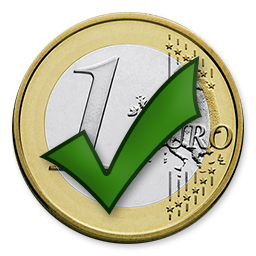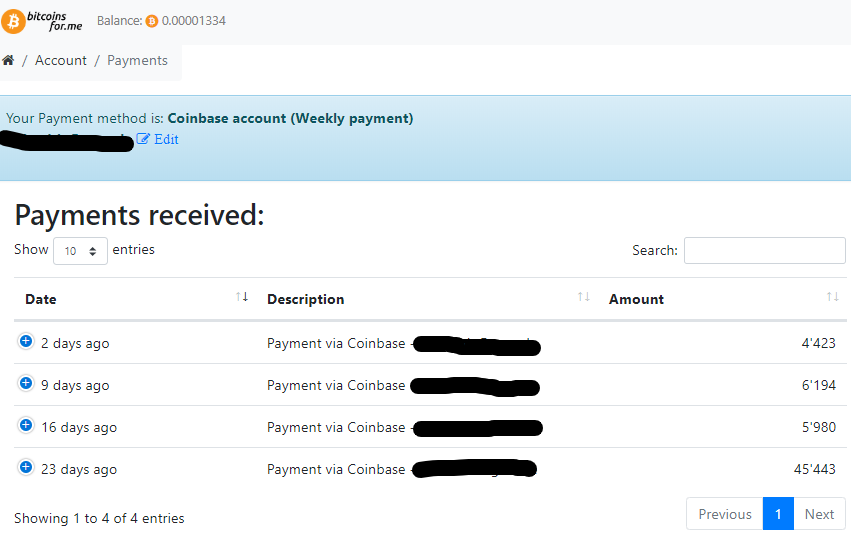 Register now at Bitcoinsforme

If you like Bitcoinsforme, you may also like: